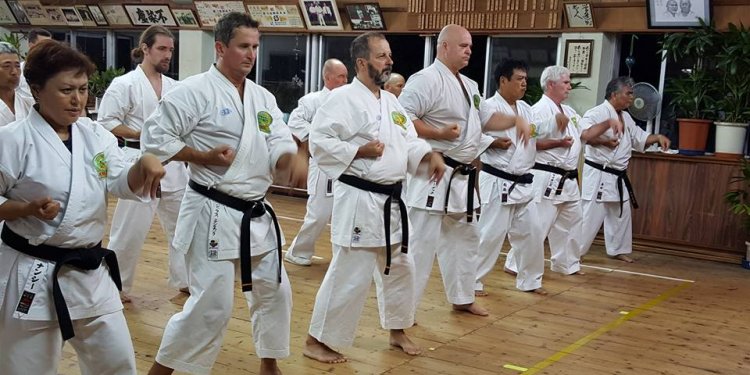 Training Karate
This is just one of several MMA apps - part of the MMA membership.
Use this app to learn beginner to advanced Karate moves from a beginner to elite level.
If you've ever watched a martial arts movie or a tournament, you'll know that their skills are enough to put anyone in awe. Martial artists are some of the greatest athletes because of their power combined with body control.
This training program will provide you with the foundations of karate techniques. Use program if you are:
* searching for a workout to get into shape
* starting martial arts
* working to improve your MMA skills
* hoping to one day become a karate master or black belt
Earn the following Belts:
- White
- Yellow
- Orange
- Green
- Blue
- Purple
- Red
- Brown
- Black
Skills Taught in Program
STANCES
- Attention
- Horse (Training)
- Neutral Bow
- Forward Bow
- Reverse Bow
- One Leg (Crane)
- 45 Degree Cat
- 90 Degree Cat
- Front Twist
- Rear Twist
- Wide Kneel
- AND MORE!
BLOCKS
- Thrusting Inward
- Vertical Outward
- Upward
- Outside Downward
- Hammering Inward
- Extended Outward
- Push Down
- Inside Downward – Palm Up
- Inside Downward – Palm Down
- AND MORE!
PARRIES
- Inward
- Outward
- Outside Downward
- Inside Downward
PUNCHES
- Thrusting Straight
- Snapping Straight
- Thrusting Vertical
- Snapping Vertical
- Vertical Thrusting Back Knuckle
- Vertical Snapping Back Knuckle
- Uppercut
- Roundhouse
STRIKES
- Back Hammerfist
- Onward Handsword
- Outward Handsword
- Thrusting Heel Palm (Straight)
- Inward Elbow
- Outward Elbow
- Back Elbow
- Obscure Back Elbow
- Inward Overhead Elbow
- Outward Overhead Elbow
- Upward Elbow
- Underhand Reverse Hammer fist
- Outward Back Knuckle
- AND MORE!
FOOT MANEUVERS
- Step Through
- Step Drag
- Drag Step
- Cover
- Front Foot to Back Foot Switch
- Push Drag
- Front Crossover
FINGER TECHNIQUES
- Straight Finger Thrust
- Overhead Claw
- Outward Whip
- Vertical Finger Thrust
- Upward Finger Thrust
- Overhead Whip
KICKS
- Front Snap – Ball
- Side Snap – Knife Edge
- Back Snap – Heel
- Roundhouse
- Front Thrust
- Side Thrust
- Shovel
App Features
- Workouts and exercises at beginner, intermediate, and advanced levels
- Instructional coaching using video and voiceover
- Animated demonstrations with detailed descriptions and freeze frames
- Profile with social notifications, past posts, and your bio
- Active community of coaches, elite athletes, beginners, fitness enthusiasts, nutritionists, and athletic trainers
Become a PRO or MVP member to get access to more Fitivity apps, plus other features and advantages!
PRO - $2.99/month
Access all Fitivity MMA related apps and their premium levels.
MVP - $6.99/month
Access to the entire collection of 350 Fitivity apps and their premium levels.
PRO and MVP membership also gives you access to...
- Your own dedicated training library to access thousands of videos, exercises, and workouts.
- The ability to create and edit your own training library.
- Save exercises and workouts for easy access.
- A timer so you never have to leave the app to time your exercises.
Share this article
Related Posts