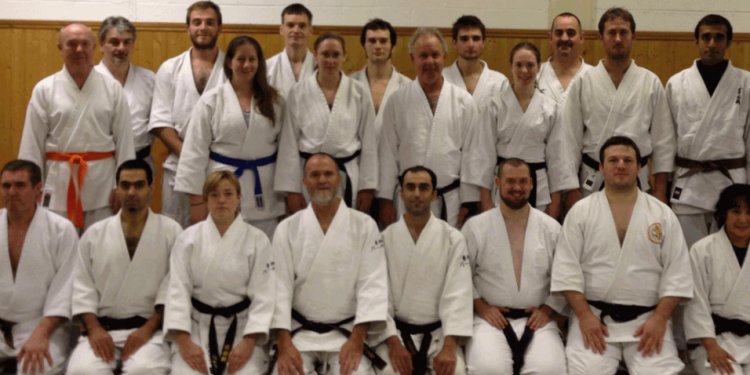 Aikido training
Of course, the philosophy and internal benefits of Aikido are accompanied by concrete physical benefits. Aikido training is an excellent program for all-around physical fitness, flexibility, and relaxation.
The human body in general can exert power in two ways: contractive and expansive. Many fitness activities, for example weight-lifting, emphasize the former, which means that specific muscles or muscle groups are isolated and worked to improve tone, mass, and power. The disadvantage of this, however, is that whole body movement and coordination are rarely stressed. Thus, while muscle size and power may increase, there is no teaming of the ways in which to use those muscles together most efficiently. Also, this sort of training tends to increase tension, decrease flexibility, and stress the joints. The result may be aesthetically pleasing, but when done to excess it is ultimately useless, and actually detrimental to overall health.
The second type of power, expansive, is mostly stressed in activities such as dance or gymnastics. In these activities, the body must learn to move in a coordinated manner and with relaxation. Aikido, also, mostly stresses this sort of training.
While both types of power are important, it is interesting to note that a person who masters the second type of power can, in a martial context, often overcome a person who is much bigger or stronger. The reason for this is that the contractive power which most persons know is only as great as the mass and power of your individual muscles. Expansive power, however, as used in Aikido, can be much greater than your size may lead you to believe. This is because you move with your whole body.
Rather than stressing and tensing only a few muscles, you learn to relax and move from the center of your body, where you are most powerful. Power is then extended out naturally through the relaxed limbs, which become almost whip like in their motion.
So Aikido develops the body in a unique manner. Aerobic fitness is obtained through vigorous training. Flexibility of the joints and connective tissues is developed through various stretching exercises and through the techniques themselves. Relaxation is learned automatically, since without it the techniques will not function. And a balanced use of contractive and expansive power is mastered, enabling even a small person to generate enormous energy and self-defense skill.
Share this article
Related Posts