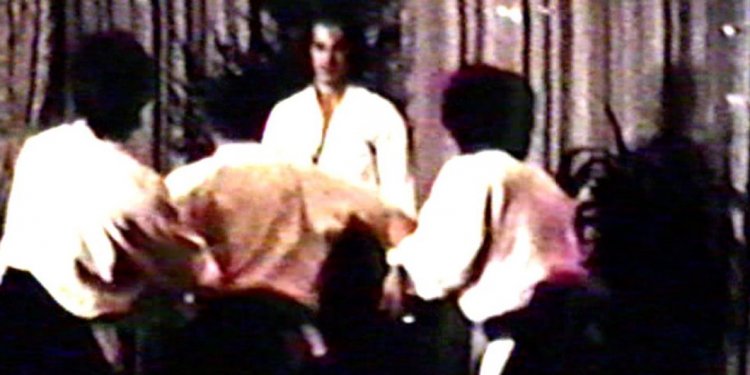 Steven Seagal Aikido school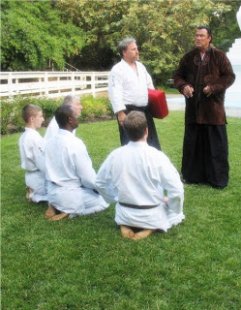 Steven Seagal Shihan is fond of saying "There is only one Aikido, and that is the Aikido of O'Sensei's."
Tenshin Aikido is a school of Aikido that is under Master Instructor Steven Seagal (Take Shigumichi Sensei), who is a long-standing member of the International Aikido Federation under the Founding Family of Aikido. He is our link to Hombu Dojo.
Sensei Freeman, Patrick, Andre, Kyle, and Mike with Seagal Sensei
There are three schools that are mentioned on Seagal Sensei's website as having direct permission to teach under his Tenshin school's official banner. Craig Dunn in Taos, New Mexico; Jorge Angulo in Miami, Florida; and lastly Elliot Freeman in St. Louis, Missouri. Because these three schools have been training and testing at Seagal Sensei's training
seminars for over twenty years, they've kept strong family ties to each other.
Every Aikido school reflects their Master Instructor's as well as their own personal training sensibilities. Some schools accentuate slow and fluid movements, while others move in a very acrobatic manner. Our Tenshin school's focus is one of utility. The beauty of a Japanese teapot is not judged by how much gold adorns it, but rather whether or not it pours well. A Japanese sword is not judged by how much decoration it has, but by how well it cuts. Likewise, the threads that unite our Tenshin schools is also based in the utility of this beautiful, graceful, yet effective martial art.
Although we start our beginners practicing at a slow and safe speed, we always use 100% power behind our attacks. By using these two elements (slow and 100% power), we slowly build up speed of our attacks until they are realistic and practical. What also characterizes Tenshin Aikido, is it's deflection system that is unique to Master Steven Seagal's system. As all the Three Rivers Aikido students always say, after the first few weeks of training, they actually could understand what Seagal Sensei is doing in his films where prior to that it was indiscernible and seemed like magic.
Realism, along with a traditional Aikido aesthetic of beauty and grace, results in a safe and non-injurious training system.
Share this article
Related Posts