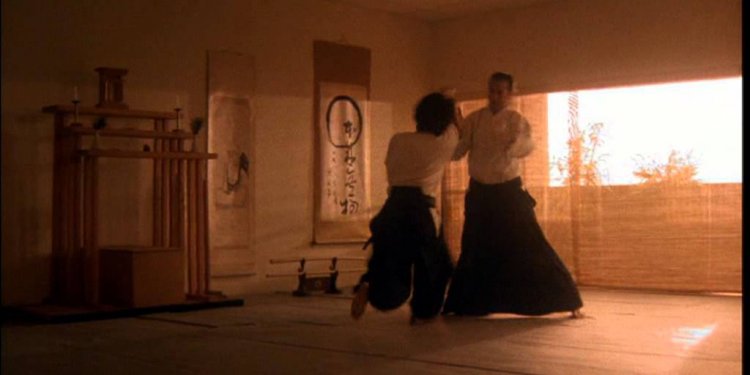 Steven Seagal Aikido master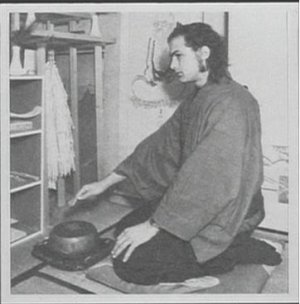 BEFORE, STEVEN SEAGAL WAS UCHIDESHI TOO !!
Steven Seagal at Osaka-Japan (1974)
This photo taken in 1974, is of Seagal at Ki Society Dojo in 1974 Japan. On his left is Nonaka Sensei ( cheif instructor Hawaii) and on his right by the window is Imaizumi Sensei (founder of Shin Budo Kai Aikido)
This photo taken in 1974, is of Steven Seagal being corrected on his posture by Tohei Sensei (10th dan) at Ki Society Dojo, Japan while other Sensei look on and try to help.
STEVEN SEAGAL OSAKA - JAPAN (1974)
(These photos are under protection can not be copied)
The story of Steven Seagal has started when he was 5 years old
He was taken to an entertainment place where he saw an elderly man was making strange moves. He was affected with those moves.
Steven Seagal is working caligraphy
(These photos are taken from Sensei Glenn Odle's private collection)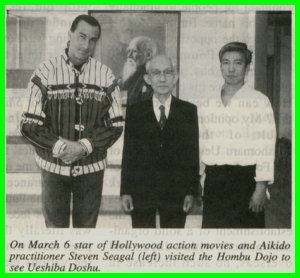 Very Special Thanks to Sensei Glenn Odle




So his interest in martial arts started. He studied Karate with Master Fumio Demura and gained the black belt. Besides this he was interested in other arts like Kenjutsu, Judo, Kali and Kendo. When he decided to proceed with Aikido he became the student of Sensei Harry Ishisaka. He received his 1st Dan degree in 1974 in Orange County-Ca from Sensei Koichi Tohei.

Steven Seagal in Osaka - Japan (1980)

1977 September Kameoka city-Japan

This interest in Aikido took him to Osaka, Japan in 1974. There, he entered the Dojo of Grand Master (O'Sensei) Morihei Ueshiba who introduced Aikido. This was not enough for him. He studied Zen and Buddhism. Seagal became an expert on Far East Philosophy.

Seiseki Abe Sensei (10th.Dan)

(Used with permission - NYAC)

very special thanks to Shaun Ravens, Chief Instructor - NY Aikido Center Aikido Doshinokai, an Aikikai Affiliate

(This photo is under protection can not be copied)

He started to live like a Japan and he learned to read Japan and write it as calligraphy from Seiseki Abe Sensei (10th Dan).

He became a Buddhist. He deeply studied Acupuncture and Herbology

He married Miyako Fujitani who was also an Aikido Teacher in 1975. He started to manage the Tenshin Aikido Dojo, which belonged to his wife's family.

Sensei Miyako Fujitani - Sensei Steven Seagal

Foreign Aikido Dojos in Japan (1977)

Black Belt Magazine (1977)

About Foreigner's Dojos in Japan-1977

This is the first Dojo in Japan that was managed by a Western Person.

On the other hand Sensei Steven Seagal is the first Western Person who achieved the "Master" degree in Aikido.

In Japan they called him "Shigemichi Take" (Pathway to Prosperity). "Take" was a name coming from his wife's family.

For the world of Aikido, Steven Seagal is "Take Sensei".

TenShin Dojo - Opening Ceremony - Osaka (1976)

He returned to USA and started to manage the Martial Arts School "Ten Shin Dojo" (Tenshin Bugei Gakuen) which he opened in 1982

He entered the movie business in 1987. Mike Ovitz who was the manager of many film stars was one of his students. He convinced Seagal for a screen test, which was very successful.So in 1988 Seagal entered the movie world with his first film "Nico-Above the Law"

First Newsletter fromTenShin Dojo

Very Special Thanks to Sensei Glenn Odle

(These photos are under protection can not be copied)

Doshu Kisshomaru Ueshiba (1921 - 1999)

Shihan Seagal, Doshu Kisshomaru Ueshiba & his son

Very special thanks to Mr. Angelo Jansen for this great photo

Steven Seagal recieved 7th degree black belt in Aikido from

O' Sensei Morihei Ueshiba`s son

Doshu Kisshomaru Ueshiba at 1995.

Aikido lessons in his Dojo still continue. Including 1999 he worked there as a teacher. He organized many seminars on Aikido in all over the world including his ranches at Los Angeles and Montana-Ennis, which he participated as a teacher and lecturer.

He gave interval to his teaching career due to the increasing movie works.

Steven Seagal's Philosophy

The Path Beyond Tought

Trust your doubt. Always fight for your beliefs.

That is "the path beyond thought.

Shihan Steven Seagal, Shinto Priest

The Path Beyond Thought

(2001)

Directed by: Binh Dang

Video Clip from the film "Path Beyond Thought"

In his official site a documentary movie on what are Aikido and his works is sold. The name of this film is " Path Beyond Thought" and is in NTSC format.

In this film, Steven Seagal is telling about his adventure in Aikido from the very beginning till today. It also explains the spiritual and universal harmony of this Art. It is an educational film that is prepared with the participation of Seagal and his Students.

There are 10 chapters:

1. About Steven Seagal Sensei.
2. Steven Seagal's Aikido Philosophy.
3. Ukemi.
4. Women In Aikido.

5. The Strength Of The Mind.
6. Back To The U.S.
7. The Physical Journey.
8. The Black Belt Test.
9. Randory.
10. Conclusion.


In the beginning there are two phrases on the screen:

"You never know how long the battles going to be.", "You have to be ever ready…"

At the final section Steven Seagal's creative techniques on Aikido is displayed.

In the end there are two phrases on the screen: "What do you have when you got nothing left?", "Show me what you got…"

What students says about Steven Seagal Sensei ?

(From "Path Beyond Tought")

"First impression – he is very big, tall. "

"My first impression of Take Sense was that I felt closer and more friendly towards him than I expected."

"He can be the most gentle and he can be the most… dangerous."

"He is pretty detail and pretty technical."

"He is very fast, like lightning."

"Way he spoke, way he shakes your hand, way he looked into your eyes – there was an incredible truth there. And immediately I was interested."

"He is very kind, he's gentle – incredible."

"He has the ability to deal with you at level that you can't understand"

"Some times I get frustrated when I practice because I usually practice with men and they use they strength on me. But when I apply techniques on men correctly in works. Men feel frustrated also when a skinny girl like me throws them with correct technique."

"Women can do better aikido than men, because they don't have the strength, they have to do the techniques."

"In Japan there is a saying: There should be a balance in the development of both the spiritual and the physical self."

"One of his characteristics is that he is devoted to show the real fighting techniques in his Aikido and not just showy movements."

"Steven Seagal Aikido is more applicable on the street."

"When I realize that I'm just a small part of the universe and powerless against it, than I can realize what real strength is."

"Since I have met Take Sansei I have gained strength inside of me."

"He changed my life. My indirection to him, and training by him has change my life."
Share this article
Related Posts