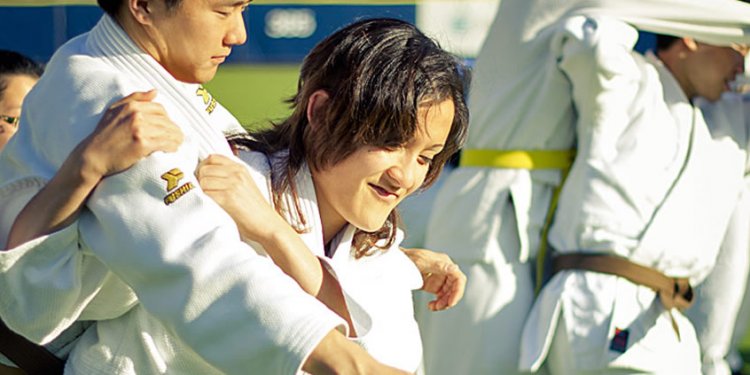 UC Berkeley Martial Arts
The UC Martial Arts program is dedicated to providing outstanding martial arts instruction to the UC Berkeley campus and surrounding community.
About the Program
The UC Martial Arts program is a world renowned leader in the promotion, development, and overall growth of the martial arts, and is a model for other universities.
New members and all levels are welcome to take part! Beginners usually practice at different times than the more advanced students, so be sure to check the UC Martial Arts Judo webpage for specific workout times.
Judo
Based on the ancient Japanese art of self-defense called Jujitsu, Judo concentrates on throws, ground work and falling techniques in addition to physical conditioning and total health.
Offering
Days
Times
Price
Action
UC Berkeley Students
Mon / Wed / Fri
7 – 8:40 p.m.
Semester: $120
UC Berkeley FacStaff & Alumni
Semester: $170
Community & Youth
Semester: $220
Location: 145 RSF.
Karate
Karate, the Japanese art of self-defense, focuses on kicking, punching, blocking and other combative techniques. Board breaking is practiced as a demonstration of mental discipline and good technique. Of ancient origin, Karate is practiced throughout the world in many different styles. At Cal, all styles of Karate are incorporated into one general class.
Location: 251 Hearst Gym
Taekwondo
Taekwondo, "the way of foot and fist, " is based on the ancient Korean methods of self-defense. Taekwondo is an official Olympic sport and is a rapidly developing martial art. There are currently 70 million participants in over 188 countries with the World Taekwondo Federation.
Tue / Thu / Sat
See Below
Location: 145 RSF and the Combatives Room at the RSF.
Schedule
Levels
Youth
Tue / Thu
4 – 5 p.m.
White & Yellow Belts
5 – 6:30 p.m.
Green & Blue Belts
6:30 – 8 p.m.
Poomsae & Demo Practice
7:30 – 9:30 p.m. (135 RSF)
Red & Black Belts
8 – 9:30 p.m.
All Levels
Sat
9 – 10:30 a.m.
Sparring Class
10:30 – 12 p.m.
Taiji
Taiji, a Chinese martial art, emphasizes balance and coordination, reduces stress and improves health.
Wushu
Wushu means "martial arts" and, in ancient times, was used primarily as a form of combat in China. Now it is a contemporary art form that is aesthetically pleasing, visually exciting and physically demanding. It is a challenging fusion of Chinese martial arts and performance.
Location: 220 Hearst Gym.
Schedule
Beginners
Mon / Wed
7 – 8:30 p.m.
Intermediate & Advanced
8:30 – 10 p.m.
Fri
7 – 10 p.m.
Share this article
Related Posts