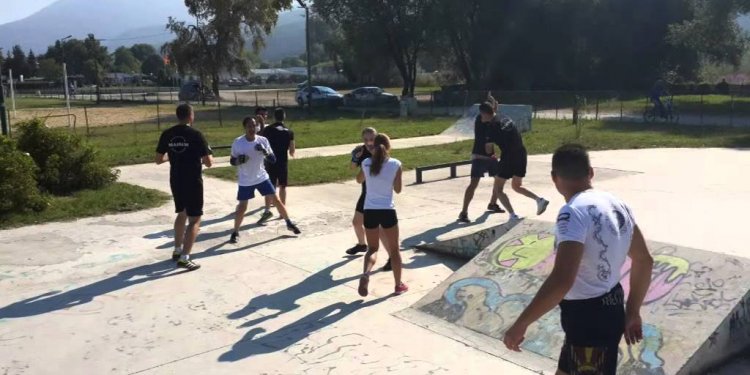 Strongest Martial Arts
Very effective. The general perception is that strongmen are very dangerous opponents in hand-to-hand combat because Hollywood has this stereotype of big guys being the ultimate say in close quarter combat. But guess what? Strongmen, whose job it is to be as strong as possible, are not as good at fighting as guys whose job it is to be as good as possible in fighting.
There are numerous videos on YouTube of strongmen taking on martial artists, and they lose in all of them. Take a look for example at this video of Hafþór Júlíus Björnsson, A.K.A. the Mountain from Game of Thrones, who is a 2.06 m tall giant weighing 110 kg doing a light-hearted spar against Conor McGregor, UFC featherweight champion:
Even though the Mountain is far stronger than Conor here, Conor is able to get the Mountain to the ground without much difficulty. The reasons for that are as follows:
The Mountain lacks finesse - any grip the Mountain tries to apply, or his guard, or any of the punches he tries to land, are crude and inefficient. His hands are constantly up and open. That's a wrestling stand, and Conor simply stays away from him, thus denying the Mountain the possibility to use his strength in grappling. And if he gets into his grip he slips out of it without much difficulty. If the Mountain was trained in a martial art he had the finesse to prevent this.
The Mountain lacks agility - Conor is moving around far more, yet The Mountain is having great difficulty keeping up with the same pace while standing almost still. The Mountains strength doesn't lie in the aerobic, but the anaerobic. Conor again, denies him the possibility to use this 10-second strength by simply staying at a distance from him. Two minutes in and The Mountain can hardly stand anymore.
The Mountain doesn't know how to fight - Anyone can throw a punch, but there's a lot of technique involved that the Mountain simply doesn't have. The lack of proper technique doesn't amplify his strength, but instead diminishes it. He could be a far more dangerous opponent if he was trained, but he isn't.
All this doesn't mean that strength has no place in martial arts, that it definitely does. But just strength isn't enough. Fighting is more than a battle of who is the strongest, because a lot more than just strength is involved. So when you say:
I know a guy whose a huge pro power lifter who can pull an entire train and is fast/light on his feet. I just don't see an average sized guy being able to beat him, even with fighting skill.
You simply have to put your "…pro power lifter" against a pro martial artist if you want to be convinced that your friend can be defeated. Your guy may be strong, but that doesn't automatically mean he's durable or good in a fight.
Share this article
Related Posts