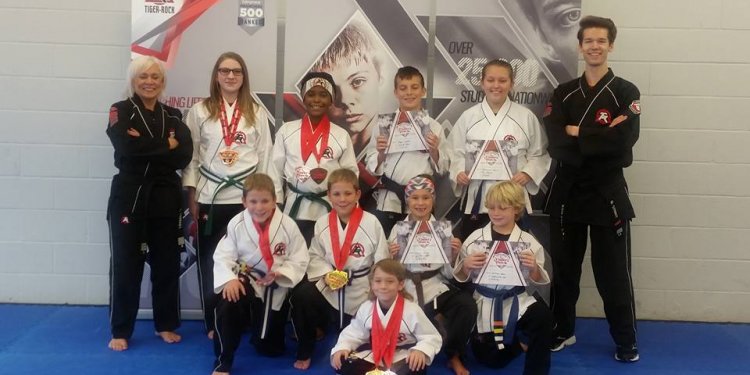 Martial Arts International
1261 N Lakeview Ave
Ste F
Anaheim, CA 92807
(714) 777-5599
My kids and I have been studying martial arts at the MAI. I tried the Krav Maga classes and observed my kids for a while before I committed to karate myself. Both my kids had taken martial arts at two different dojos and did not enjoy the classes. I had taken karate many years ago and had gone up to brown-black belt before moving to US. The classes / senseis at the MAI are stimulating, well rounded and old fashioned. There is a true sense of the art and family at this Dojo. I feel fortunate to have found and been recommended to a well established school of martial arts that has given me my health back as well. I have never felt so fit and my doctor is amazed that within 8 months of attending MAI I had to be taken off blood pressure medication and I have not had to see my chiropractor for over 2 years now. The team of senseis at the MAI have been a great support for my kids and I through our lives. I would highly recommend this school if you are looking for a safe, caring, serious yet most fun place for yourself or your family
Our son started going to the Little Dragons class through the city of Yorba Linda. It was an inexpensive way to see if he would like karate. Our daughter observed him having a lot of fun and she asked if she could try it too. She was offered 2 weeks to try it for free with the uniform included. We have been there ever since. Our son transitioned to regular classes after 6 months of Little Dragon classes. Both kids have a lot of fun and really love their sensei. It feels like a family. By the way our son has ADHD and high functioning autism. All the sensei have been patient and thorough during instructions.
Could not recommend this more highly. Sensei Manos has been great to work with, and understands the challenges and conflicts of raising a family. We are a couple of years in now, and we hoped our son (6 years old) would learn self-discipline, patience, humility, respect and confidence. This program has far exceeded our expectations, and really helped in so many other areas of my sons life. ALL of the Sensei's have been great, but in particular our current Sensei (Quon) has shown a tremendous amount of patience while challenging our son to do his best. Put your kids in this program if you can - they have some no cost/easy ways to get started!
We have been here for 3 1/2 years. The staff is amazing and they are truly genuine in helping your child grow physically as well as mentally. My son now wants to be a sensei! Thanks especially to Sensei Quan and Sensei Butler for helping Shane through this amazing journey!!!
We started our son in this class as a way to exert energy and hopefully as a way to harness some of his temper. Right off the bat he really enjoyed it, the Senseis were great as well as the front desk ladies. Sensei Butler was wonderful, he is very patient with the kids and at the same time he makes it fun while they are learning to keep their interest. Unfortunately after about 8 months of taking classes my son lost interest (as he does with all things he tries). If he ever told us he would like to try again MAI would definitely be our only place to go. A+++ to all of them.
I took a Krav Maga class here for about 8 weeks through the Anaheim's Park and Rec with my boyfriend. Small class, only 5 to 6 people, which allowed the Sensei to give you more individualized attention. This place is small albeit friendly, and family-owned; the owner personally asked my boyfriend and I how we liked the place. I wish I could come back, but school gets in the way. At $99 per month for unlimited Krav Maga, the price is pretty reasonable. Come here to not only get your butt kicked, but to learn how to kick butt!
My 5-year old son has been in the Lil Dragons class for a year and LOVES it. The facility is clean and sensei Evan is wonderful with the kids. Focus is on karate skills, balance, agility & listening skills.
My daughter has been taking her Karate lessons here for about 1 month and she loves it. The drive is a bit far for me but worth every mile, She loves all of her Sensai's and enjoys every bit of her lessons. You just get a great vibe from everyone here, Tell you the truth I know nothing about Martial Arts but she seems to have an amazing time and they all take the time and patience to teach her. This is a family owned business so be aware to be welcomed in with open arms. If you want your child to learn discipline, respect, self confidence, exercise, etc I highly recommend this place. Thanks PS. Ask for Rick he's the owner :)
Great place to start your kids off on karate. We started our son in their little dragons program and he loved it. The little dragons program is great fun, loaded with energy and teaches kids discipline and good values, the only issue I had was the extreme repetitiveness of the program but I guess for 4-7 year olds, repetition is key. Also the class was only 30 mins long, I think the kids could've handled a bit longer training. Otherwise a great program and best price in town!
Share this article
Related Posts