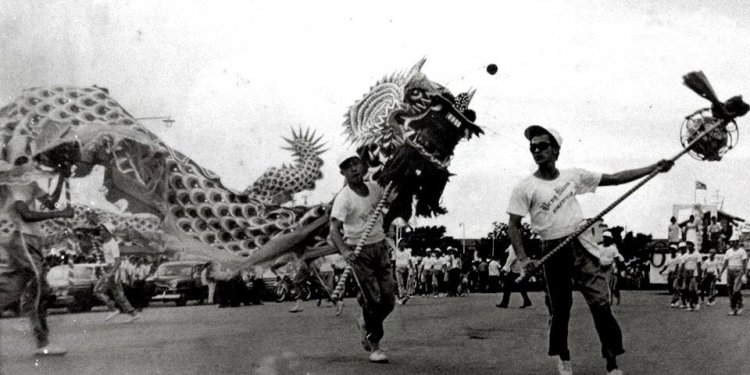 Martial Arts Encyclopedia
Martial Arts of the World: An Encyclopedia
Volume One: A-Q, Volume Two: R-Z
Hardcover, 895 Pages, $185.00 US
Edited by Thomas A. Green
Publisher: ABC-Clio, Inc.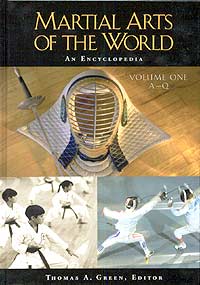 Reviewed By Jason Couch
For some time, the martial arts readership has awaited a volume that would catalogue and detail the entire spectrum of martial arts, as Draeger and Smith's Asian Fighting Arts managed to do for the Asian martial arts. As the years have passed since its re-publication as Comprehensive Asian Fighting Arts, increasing access to the Internet has resulted in an explosion of interest in information on an ever-widening variety of martial arts. Asian Fighting Arts was groundbreaking in both its scope and its depth of coverage of Asian martial traditions. It is with pleasure that I now announce the birth of an encyclopedia reflecting today's eclectic interest in Martial Arts of the World: An Encyclopedia.
This encyclopedia encompasses a range of martial styles and subjects never before published in a single work. It offers an incredible diversity, which is why I believe it will become a standard resource for institutions and dedicated martial artists. It may lack some of the exotic appeal of Comprehensive Asian Fighting Arts, but it more than makes up for that deficiency with its solid academic basis and much broader scope.
There have been intermediate attempts at a martial arts encyclopedia with varying degrees of success. Corcoran, Farkas, and Sobel put forth a solid effort with The Original Martial Arts Encyclopedia: Traditions, History, Pioneers. Their work, punctuated with an impressive array of photographs, certainly increased the coverage of non-Asian arts. They also provided an extensive coverage of martial art personalities, particularly US karate practitioners. Even with substantive entries on other arts such as savate and sambo, though, the focus was overwhelmingly on Asian disciplines. Suffering from a lack of recent revision, it is also dated.
Lawler took a less successful approach in her Martial Arts Encyclopedia. Her effort to be inclusive resulted in a dictionary-style volume limited to mainly brief entries. Lawler's focus was also overwhelmingly Asian, with little mention of non-Asian martial arts.
Most recently, the editors of Inside Kung Fu published the Ultimate Martial Arts Encyclopedia, which, while flavorful, is basically just a republication of certain past issues of their different magazine lines. The academic value is therefore the same as any other issue of Inside Kung Fu, which is little.
The set reviewed here, Martial Arts of the World: An Encyclopedia, is the first to go beyond a token effort of covering martial arts other than those from East Asia. It does so by linking together cross-cultural themes as well as including traditional categories of style, country, etc. Further, it is a more useful reference for martial research since bibliographic entries are provided for each entry, rather than lumped together at the end of the volume.
Physically, this two volume set looks like a matched pair of academic textbooks. The cover, in keeping with the worldwide theme, displays both eastern and western training photographs. The volumes themselves extend over 400 pages each, with a total length of almost 900 pages including the index.
The encyclopedia is composed of nearly 100 entries by over 40 contributors. Each subject is discussed in depth. Unfortunately, however, many minor or less practiced martial arts are not directly addressed, although they may be noted, or included within the historical backgrounds of another arts.
The contributors are often familiar to the reader either from their academic achievements or as well-known practitioners in their respective disciplines. Following each topic entry is a listing of related topics in the encyclopedia and bibliographical references for the entry itself. Appended to the end of Volume Two is an abridged version of Joseph Svinth's informative timeline Kronos: A Chronological History of the Martial Arts and Combative Sports.
The organization shows thought, but is not necessarily intuitive for the reader unfamiliar with the set. Major subjects, such as countries, have general entries detailing the types of martial traditions historically practiced in the country. A listing of the country-specific arts and other related topics will appear at the end of the entry guiding the reader to further resources in the set. The index, however, is thorough and will normally lead you straight to your destination.
The entries themselves range from good to excellent, with a variety of writing styles displayed. At the minimum, an entry provides the basic history of an art, including relevant technical and philosophical discussions. These types of entries include at least a handful of good bibliographic references and also the occasional pop reference, such as Black Belt magazine. They appear to be aimed primarily at a reader unfamiliar with the subject and offer a limited selection of resources for further reading.
At their best, the entries are near journal-quality articles worthy of publication in their own right. These entries often include a long list of scholarly references that provide a fertile ground for further academic research. Many topics appear to have been thoroughly researched to provide an in-depth examination normally reserved for a specialty book on the particular topic itself.
What impresses even more is that the encyclopedia format provides an opportunity to include subjects that transcend style, including: folklore, chivalry, religion and spirituality, meditation, political conflict, rank, social uses, training grounds, and women's issues. In addition, fascinating entries have a tendency to appear on topics the reader would not expect to see at all. To my surprise, not only was there an entry for "Professional Wrestling, " but it turned out to be both an informative and enjoyable read.
Other diverse topics, such as gunfighting, heralds, performing arts, and traditional Chinese medicine were also surprising but welcome. Again, part of its value is because these topics are rarely covered as a part of the martial arts, let alone found together in a single source.
One drawback to the format is that the focus of the entry depends primarily upon the identity of the contributor. I do think it is a criticism worth mentioning because I believe this encyclopedia may become a standard reference in the field. A problem arises in that no information is given about the various contributors other than name, city, and occasionally school or organizational affiliation. So unless a reader has either read a contributor's writings before, or is familiar with a contributor as a practitioner, the reader may have difficulty judging what influence may be present. The lack of biographical data that could help expose the inherent bias of the contributors is the only serious criticism I have of this work.
It should also be noted that this set is quite expensive. Bearing a list price of $185.00 US, this set is probably going to be more popular with institutions than individuals. Price is an important consideration today since a ready supply of information awaits at the end of a mouse click. The value of an encyclopedia lies in its use as a handy bookshelf reference. The online competition is increasingly difficult to compete with, since not only is more information added daily, but it is also free. Nonetheless, as a testament to its merits, I can say that Martial Arts of the World: An Encyclopedia is worth the price and belongs on the bookshelf of both the institution and the serious martial artist.
Share this article
Related Posts