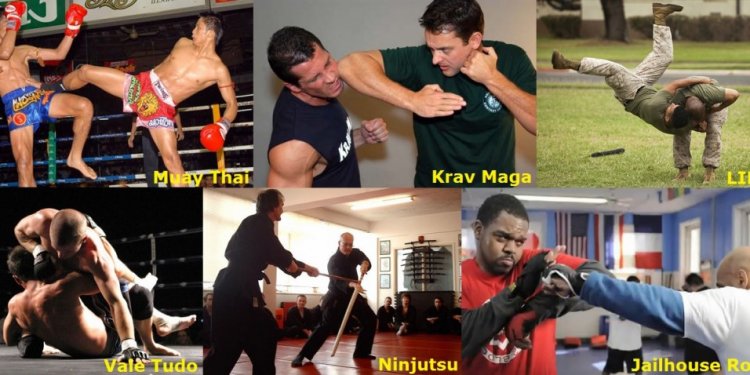 Deadliest Martial Arts in the World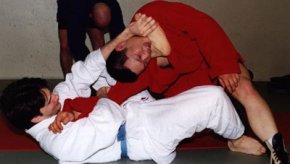 Country of Origin: Russia
Russia is a country with a history of diverse, if not incredibly numerous, invaders, having been attacked by the Mongols, the Huns, the French, and the Germans at one time or another. This meant the Russians had many chances to learn new ass-beating techniques, often using the martial arts from the last invader to crush the nuts of the next one.
Over time the Russians developed a particularly brutal form of wrestling on the steppes. Then during the Communist Revolution of 1917, Russian martial artists decided that man-handling, joint tearing, and bone breaking just weren't good enough for the communist Soviet people, so they modified it into sambo, which, in Russian, is an acronym for "Self-Defense Without Weapons."
They originally taught it to the Red Army and government agents, but with crime on the rise, sambo has seen a lot of use by bodyguards, who added a few extra moves like "killing your attacker with his own knife, making him look like a giant douche in front of everybody."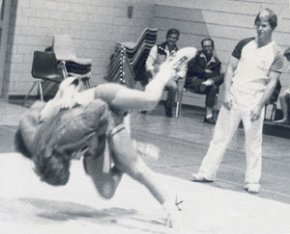 Sambo in Action:
Here's a sambo training session with some old bald guy with balls bigger than our fists teaching students how to make anybody who assaults you with a knife feel outrageously stupid for a few seconds before they bleed out.
We're pretty sure that on the street, the next move involves going ahead and tearing the dude's arm off.
Country of Origin: Thailand
Like many countries in southeast Asia, Thailand has been violated more times than (tranny prostitute joke omitted for being too easy). So, like the Russians, they got lots of practice at punching people to death. Thus was born Muay Thai, a.k.a. The Art of Eight Limbs. Yeah, eight limbs. Muay Thai counts the knees and elbows as separate limbs and focuses on using those "limbs" as clubs, slamming the opponent with them as hard and often as possible.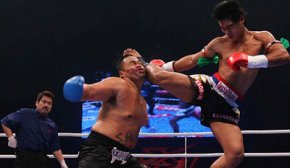 No, they don't dick around. While other martial arts have techniques called "Shifting Sands" and "Transposing Shadows, " Muay Thai has techniques called "Throwing Buffalo Punch, " which can take down a Buffalo in one hit. Yes, they were apparently invaded by buffaloes at some point.
The art is still practiced in Thailand today both as an awesome way of killing people and as a sport, complete with boxing gloves. However, padded fists don't help much when your opponent is breaking your face with his knees and elbows. And, while the story of Muay Thai fighters gluing broken glass to their hands is false, the wrappings they used before boxing gloves were about as soft as concrete and left deep cuts on the fighters.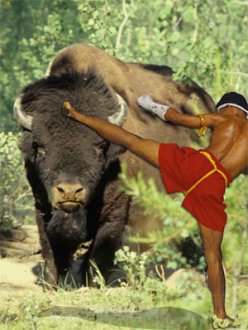 When boxing gloves were introduced, deaths in the ring were cut from "common" to "not common enough to be considered a crime against humanity."
Muay Thai in Action:
The most awesome story from Muay Thai comes from 1774 Burma, after the Burmese had taken Thailand (then called Siam). Nai Khanom Tom, a practitioner of Muay Thai was brought into the fighting ring so the king could see how it stood up against Lethwei, the Burmese martial art. Ten seconds into the opening match, his opponent resembled a pile of lumpy mashed potatoes and was likely crying like a little girl, right up until he got knocked the hell out by a flying knee.
However, the judge ruled that his pre-fight dance had "distracted" his opponent and overturned the knockout. Being the gentleman he was, Tom fought another nine Lethwei masters in a row with no rest until everybody stupid enough to step into the ring with him was quivering in a pool of blood, urine, and shame.
In response to this, the king of Burma openly stated that Thai people had poisonous hands. Tom was given his freedom and offered a choice of a pile of cash or two hot wives. Tom basically said that money was easy to get, but hot pieces of tail didn't fall from the sky, and off he rode into the sunrise (not sunset, as Thailand is east of Burma), banging his hot wives the whole way.
Share this article
Related Posts