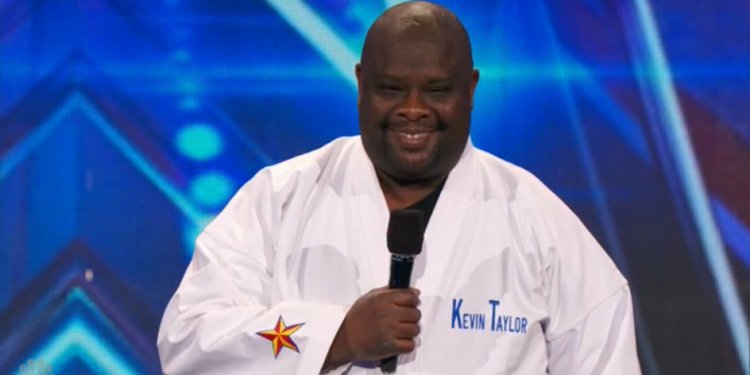 Karate Wiki
Karate - Instructions for Kata, Kicks, Bunkai, etc.
Karate is a popular Japanese martial arts that was originally developed on the islands of Okinawa, Japan. It focuses on kata, punches, elbow strikes, knee strikes and kicks. Many Karate schools also conduct Kobudo weapons training (i.e. Bo). There are many sub-styles of Karate. Some of the major Karate sub-styles include Goju-Ryu, Kyokushin, Shito-Ryu, Shorin-Ryu, Shotokan and Wado-Ryu.
Main Elements of Karate - Techniques listed below include videos & written instructions.
Other Elements of Karate
Katas by Karate Style
History of Karate
According to Shotokan Karate of America, "Karate history can be traced back some 1400 years, to Daruma, founder of Zen Buddhism in Western India. Daruma is said to have introduced Buddhism into China, incorporating spiritual and physical teaching methods that were so demanding that many of his disciples would drop in exhaustion. In order to give them greater strength and endurance, he developed a more progressive training system, which he recorded in a book, Ekkin-Kyo, which can be considered the first book on karate of all time.
The physical training, heavily imbued with Daruma's philosophical principles, was taught in the Shaolin Temple in the year 500 A.D. Shaolin (Shorin) kung-fu, from northern China, was characterized by very colorful, rapid, and dynamic movements; the Shokei school of southern China was known for more powerful and sober techniques. These two kinds of styles found their way to Okinawa, and had their influence on Okinawa's own original fighting method, called Okinawa-te (Okinawan hand) or simply te. A ban on weapons in Okinawa for two long periods in its history is also partly responsible for the high degree of development of unarmed fighting techniques on the island.
In summary, karate in Okinawa developed from the synthesis of two fighting techniques. The first one, used by the inhabitants of Okinawa, was very simple but terribly effective and, above all, very close to reality since it was used throughout many centuries in real combat. The second one, much more elaborate and impregnated with philosophical teachings, was a product of the ancient culture of China. These two origins explain the double character of Karate–extremely violent and efficient but at the same time a strict and austere discipline and philosophy with a nonviolent emphasis."
Description of Karate Classes
Before every class, you will participate in a Karate warm-up and stretching routine in order to prepare you for the regular martial arts training. During class, Karate students learn a wide variety of Karate punches, Karate hand strikes and Karate elbow strikes. Students will also learn a range of powerful Karate kicks such as the Mae Geri (front kick) and Mawashi Geri (roundhouse kick).
Karate students will also learn kata. Katas are ritualized patterns were students combine various strikes, kicks, stances and blocks. Moreover, instructors use kata to build endurance, practice combinations of kicks and strikes, improve student memorization of techniques, etc. Knowledge of and solid execution of katas is essential part of most belt tests.
A number of Karate schools focus on classic techniques and thus utilize many traditional training tools such as Jari Bako (bowls filled with sand used to condition the fingers and hands), Makiwara (striking post), Nigiri Game (gripping jars) and Tetsu Geta (iron clogs). Moreover, many schools use kobudo training that focuses on traditional weapons such as the Bo, Sai, Nunchaku, etc.
Major Schools or Sub-Styles of Karate
Karate consists of a number of schools or sub-styles (i.e. Shotokan, Kyokushin and Wado-Ryu). Each of these sub-styles teach many common Karate techniques. However, each Karate sub-style also has a number of differences versus other sub-styles (i.e. different Katas or greater emphasis on "hard" or "soft" techniques). Visit the sections below to learn more about each sub-style of Karate.
The following are the main Karate schools and sub-styles:
References
Shotokan Karate of America, History of Karate, , Added - 7/2/13
International Shuri-Ryu Association, , Added - 01/27/14
United States Kyokushin Karate, , Added - 01/27/14
Isshin-Ryu World Karate Association, Kata, , Added - 03/10/14
Share this article
Related Posts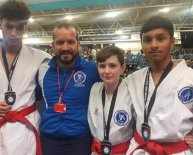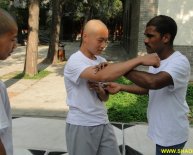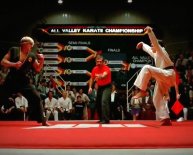 Copyright © 2022 l www.aikidoofgreensboro.net. All rights reserved.