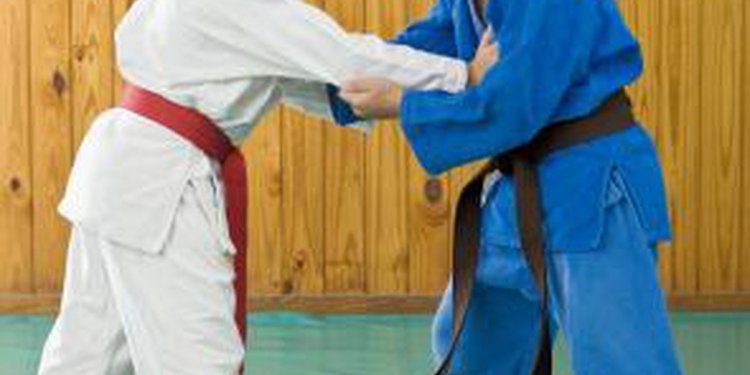 Karate VS Jujitsu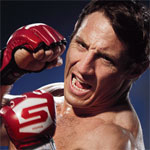 –
MMA fighter Tim Kennedy, 32, now a staff sergeant in the Texas National Guard, got his martial start in middle school by signing up for karate lessons at the local civic center.
At 12, he began Japanese jujitsu under Terry Kelly and Barry Smith and later earned his black belt from them. During the five years he trained at the dojo in the Atascadero/San Luis Obispo area of California, he kept hearing the same names being mentioned — Jake Shields and Chuck Liddell, in particular.
The success of those men — participants in the embryonic sport of mixed martial arts — spurred Tim Kennedy to begin training at other facilities including John Hackleman's The Pit and California Polytechnic State University, where he honed his wrestling before following in their footsteps.
Then in 2004, after reflecting on the importance of his nascent MMA career vs. the War on Terror, Tim Kennedy did an about-face, enlisted in the Army, opted for the Special Forces and became a sniper who was ultimately deployed to the Middle East.
He recently sat down with Black Belt to talk about a variety of topics which ended up including traditional martial arts vs. mixed martial arts, the trials and tribulations of an MMA beginner, how to get started in MMA, and how to train for MMA once you have your footing.
This segment of the larger interview pertains to Tim Kennedy's experience with traditional martial arts vs. mixed martial arts and his recollections of being an MMA beginner.
Thanks for talking with us about how to get started in MMA. Let's pull from your personal experience in traditional martial arts vs. mixed martial arts. You got started in the martial arts before MMA took off?
Way before. It was before MMA was sanctioned and before people were cross-training. People were still stuck in the mindset of training in one martial art. I started switching because I had a sincere desire to learn. I wanted to be a great striker and a great wrestler and a great submission artist, so I dedicated a lot of time to those things. Then I started competing in each of them: kickboxing smokers, amateur kickboxing fights, Pancrase fights, jiu-jitsu matches and wrestling tournaments. I consistently did well in all of them; that was my segue into MMA.
So, in considering your experience with traditional martial arts vs. mixed martial arts, it sounds like you purposefully got good at striking and grappling before entering MMA. Was that enough as an MMA beginner, or did you also have to learn how to transition seamlessly from one skill set to the other in the ring?
You have to learn how to make one complement the other. If you're a great jiu-jitsu guy, you can still get stuffed by a sprawl-and-brawler. You have to train the in-between — how to go from striking to the ground, how to go from the takedown back to your feet and so on.
Does that require the services of an MMA coach?
You're not ready to go to an MMA coach until you're experienced at what you want to be good at. I think guys go to MMA coaches too soon. They're not belted in jiu-jitsu or they haven't had their 20 or 30 fights as a kickboxer, but they think they're ready to make that transition because they've been training for a year in each discipline. They're building a house without a foundation. An MMA coach can take the skills and tools you have and put them together to construct a nice building, but if the foundation doesn't exist — which is the techniques — you're wasting your time.
If a fighter is considering how to get started in MMA, how long should they spend developing their Brazilian jiu-jitsu techniques or Thai boxing before joining an MMA gym?
It depends on the person. Typically, a guy should have grappled for a couple of years before doing his first amateur fight. He should be a blue belt — even better, pushing purple belt — before he starts looking to get a fight. In the striking realm, he should have done boxing smokers, tried Golden Gloves or competed in amateur muay Thai.
LEARN MUAY THAI TECHNIQUES FOR MMA FIGHTING!
Download this FREE Guide to develop your elbows into highly effective mixed martial arts weapons — Master Toddy's MMA-Tested Muay Thai Techniques: 3 Elbow Attacks That Can Improve Your Fighting Game!
When a beginner is just getting familiar with how to train for MMA, is it necessary to have a partner who's close to his level?
Iron sharpens iron. As a fighter, you're a product of the people you train with and train under. If I wasn't at Greg Jackson's with Rashad Evans, Jon Jones, Georges St-Pierre, Nate Marquardt and Brian Stann, I wouldn't be a good fighter. When I was on active duty and traveling all over, I could beat the typical B-level fighter because I was training at any gym I could get into, but I would never have broken the threshold and started beating top-10 guys had I not trained with the top-10 guys.
Share this article
Related Posts