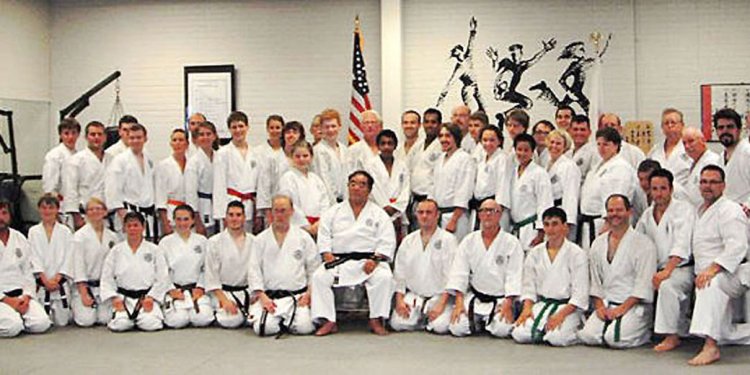 International Karate Tournament
San Jacinto College students Angela Olson and David Millan excelled at an international karate tournament, held recently at the College.
Olson won a silver medal in Kata (form) and a bronze medal in Kumite (sparring). Millan won a gold medal in Kata, and a silver medal in Kumite.
The tournament featured 200 karate students from seven nations, including the United States, El Salvador, Nicaragua, Venezuela, Honduras, Guatemala and France. In addition to Kata and Kumite, other categories included Kobudo (weapon), Individual Kata, Team Kata, Individual Kumite, Team Kumite, and Individual Kobudo. Karate weapons featured in the tournament included Tonfa, Bo, Jo, Nunchaku, and Sai.
Age groups ranged from 4 years old to over 50. Skill levels were Beginners, Novice, Intermediate, and Advanced (from under 6 months of training to over 50 years of training). The event coordinators were Luis Sauceda, president of Texas Karate-Do Federation (organizer of the tournament); Sandi Morgan, San Jacinto College Central Campus physical department chair; and Deddy Mansyur, who teaches martial arts at San Jacinto College.
Millan is a newcomer to karate and was excited about winning gold and silver medals. "This was my first time to compete in a tournament and it was great to showcase my skills, " he commented. "There will hopefully be more highlights as I continue my martial arts training at San Jacinto College." Millan likes the physical challenges of karate, but also benefits from the focus on self-discipline. "Karate stresses that we should always better ourselves and refrain from violent behavior, " he said. "I believe it brings out a lot of positive energy."
Olson also finds participating in karate rewarding. "With karate, I learn how to not only defend myself and others, but also to be aware of myself, others, and my surroundings, " she commented. "It boosts my confidence to get better and better, but my real happiness lies in the learning itself."
About San Jacinto College
Surrounded by monuments of history, industries and maritime enterprises of today, and the space age of tomorrow, San Jacinto College has been serving the citizens of East Harris County, Texas, for more than 50 years. As an Achieving the Dream Leader College, San Jacinto College is committed to the goals and aspirations of a diverse population of approximately 30, 000 credit students. The College offers 186 degrees and certificates, with 46 technical programs and a university transfer division. Students benefit from a support system that maps out a pathway for success, and job training programs that are renowned for meeting the needs of growing industries in the region. San Jacinto College graduates contribute nearly $690 million each year to the Texas workforce.
Share this article
Related Posts