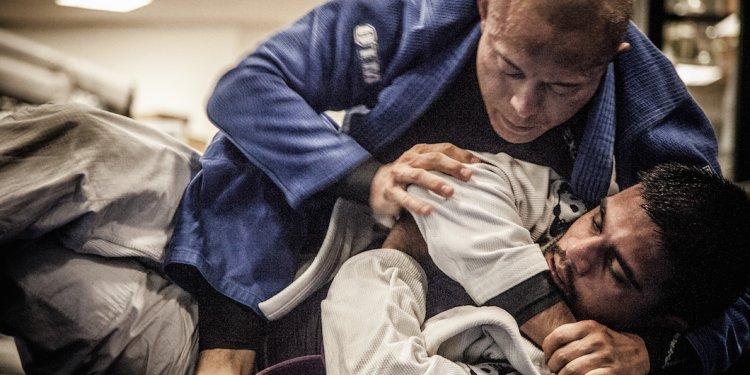 Japanese Jiu Jitsu in MMA
First Day of BJJ (from the Japanese Jiu Jitsu Perspective)
by Bill Jones (BJJ Black Belt under Pedro Sauer)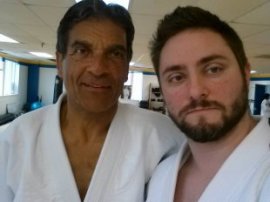 I will never forget my first day of Brazilian Jiu Jitsu training. It truly changed my life, and the direction my martial arts training would head forever. Before I get to that point, let me give you a little background on me.
In 1985, I started training Tae Kwon Do after seeing the movie, The Karate Kid. The years eventually led me to training Kung Fu as well. In 1993, Royce Gracie rocked the martial arts world when he participated in the first UFC and decimated the competition with little effort. Like many "traditional martial artists" of the day, I dismissed this as some sort of fluke. In my mind, there was no way he could ever do that to me, or anyone that I knew. So I continued on, and even wrote a 10 page essay on why I believed BJJ was an ineffective martial art. Then, in the early 2000's, I began training traditional Japanese Jiu Jitsu. I really enjoyed the grappling aspect, and assumed (as many do) that it was as good, or better, than Brazilian Jiu Jitsu. Shortly after earning a black belt in the art (in 2002. That's right, it took me only 2 years to earn), I was deployed to Iraq. While I was away, the owner of the school where I taught, hired a BJJ instructor named Tony Rinaldi to teach classes (I was promised that I could continue teaching when I returned). It was then, that I experienced the most major turning point of my life.
An ancient adage states, "When the student is ready, the master will appear." For me, this was the day I met Tony Rinaldi. Anyone who has met Tony will chuckle at the idea of me calling him a "master". He is a fiery, redheaded Italian who walks about the mat with chew in his lip, and a spit cup never out of reach. He yells a lot, and tells crass jokes, often picking on his students and creating an undeniable "locker room" feel. However, his grasp on Jiu Jitsu (and the combat arts in general) is virtually unparalleled. He is able to see, and apply Jiu Jitsu to his entire life, and always strives to do so. It is a rare thing for him to seem unsettled by anything. His martial arts skills are only superseded by his compassion for others. He is a fierce friend; and anyone who has seen him work with children, or the developmentally disabled, always stand in awe of him.
I entered back into my home dojo for the first time in over a year, and a man greeted me as a "long lost friend". I had never laid eyes on him, and I had never met him, but he immediately accepted me as an equal (he did not treat me as a subordinate or as someone that was in his way). As was customary for me, I wore my traditional Jiu Jitsu black belt in class. He did not so much as bat an eye. He simply said, "Do you want to teach? or do you want me to?" I responded that I had heard that he was good, and that I wanted to take a class with him, "if that was okay". However, in the back of my mind, my ego was screaming frantically. I honestly thought that I would not learn anything of value. I could not have been more wrong! That day we learned how to pass the half guard and to attack the Americana from side control. For the first time in a long time, I realized what it meant to be, to be a white belt again.
I remember looking at him and saying, "There are so many steps. How can people remember this?" He simply responded, "It takes more steps to walk from your car into the building. You seem to do that just fine. It just takes a little practice."
Despite being shocked at the good nature of the people in the class, and the intricacies of what we were learning, my ego would not give up quite yet. As we approached the open rolling section of class, I figured I would destroy everyone. After all, I was a black belt in Jiu Jitsu already. Tony had me roll with him first. I took him down, passed his guard and submitted him with the Americana we learned. I told myself that I did that because, "I was better". But I would soon learn differently.
Next, a smaller guy named John Fleet rolled with me. In what seemed like a blink of an eye he had passed my guard, mounted me, and armbarred me. When I asked him if he could beat Tony, he quickly responded, "Not even close man. That guy destroys me."
I continued to roll with a few more people with a similar result.
I left shortly thereafter, and fought with my ego the entire night. It boggled my mind that the instructor would just let me win. He allowed me to learn by losing. I was a person with 20 years of martial arts experience. I had 3 black belts, and a ton of specialized training; and I stood no chance against guys that had only been training for a few months. That is when it dawned on me. I experienced a stark epiphany. An epiphany that is very difficult for many to believe, or to accept. I was a white belt. When I got home that evening, I went into my closet and found a brand new white belt, that had came as an accessory to one of my gis (kimonos). I put away my "Jiu Jitsu black belt", and vowed never again to wear it, until I had earned it in Brazilian Jiu Jitsu.
When I showed up the next day, Tony took a look at my white belt and said, "You don't have to do that." I responded with the only thing that I could think to say, "Yes I do."
For many reasons I am glad that I made that decision. It was the first real defeat of my ego. Despite having black belts for multiple years; in my mind, I realized that I should always keep the mentality of a white belt.
Today, I make it a habit of seeing how many times I can get submitted in class. I put myself in the worst positions I can think of, and try to work my way out; rinse and repeat. I am constantly trying new moves, or playing in new situations, with different movements.
Master Pedro Sauer says, "Train with a white belt mentality. Learn from every person you meet, no matter what rank. If a student goes to a seminar; see what they have learned, and add it to your Jiu Jitsu."
To my brothers, sisters and friends who are training Brazilian Jiu Jitsu; I echo his sentiments. Never stop being a white belt! I know I that won't!
Share this article
Related Posts