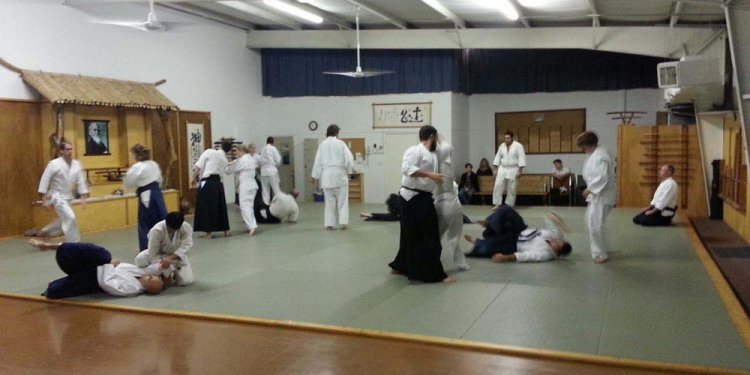 Shindai Aikikai
Located minutes from downtown Orlando, Shindai Aikikai is the largest and longest standing Aikido school in the Central Florida area. Led by the example and unparalleled teaching of master instructor Dennis Hooker Sensei, and directed by Steve Fasen Sensei, the dojo enjoys an unrivaled reputation in the greater Aikido community. The senior instructors of Shindai have over 125 years of cumulative training and teaching experience, all recognized nationally as well as internationally.
Founded in 1988, Shindai offers unparalleled training in Aikido and the philosophies of Budo. All instructors are active internationally certified students of Mitsugi Saotome Shihan, world renowned head of the Aikido Schools of Ueshiba. Saotome Shihan lived with and trained for more than 15 years as a personal disciple of Aikido's founder, Morihei Ueshiba (O-Sensei). We are honored to host an annual seminar with Saotome Shihan every April.
In addition to our vigorous workout schedule, training at Shindai is regularly enhanced through seminars given by Saotome Shihan and other significant guest instructors from around the United States. Shindai is also the host of the East Coast Aikido Bridge Seminar, which brings together the top instructors and aikidoka from all organizations, styles in a communal investigation of Aiki principles. Shindai works diligently striving to maintain a level of instruction in the principles of Aikido and the philosophies of Budo that leverages a significant history as a foundation for a stronger future in Aiki.
Shindai Dojo is a Budokan, sharing its facilities with a select group of martial arts that have a common Japanese origin. The arts of Karate, Judo, Iai Jutsu, Jiu Jutsu, Kendo, as well as Aikido, share our floor to provide outstanding martial training and the principles of Budo.
Share this article
Related Posts