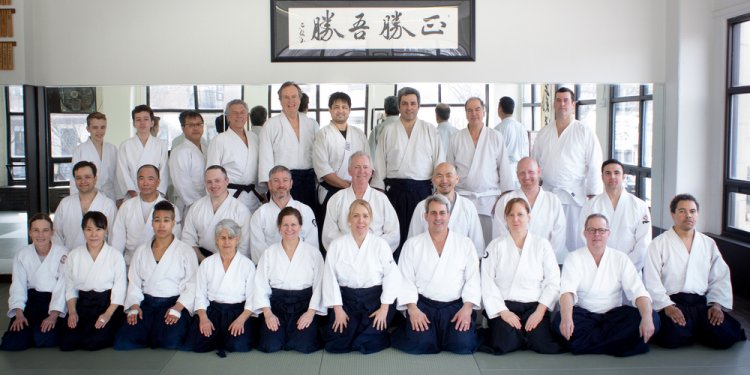 NY Aikikai
Dues are collected on a monthly basis through an electronic funds transfer system operated by
Affiliated Acceptance Corporation. Members have a choice of using a bank account or credit card*
(VISA, MasterCard, Discover or American Express) to pay their dues. Cash payments are available
to members on a 3-month in advance basis.
The New York Aikikai requires no long term contracts. Members are responsible for the terms and conditions of the Affiliated Acceptance Corporation electronic funds agreement.
Monthly Membership Dues
Adults $160.00
Couple $245.00
Students (must be enrolled in a full-time accredited program) $110.00
Junior (12-17 years) $85.00
Child (6-11 years) $50.00
Police or Fire Department $110.00
*A $5 service fee will be added to the monthly dues if paid by credit card.
Mat Fees
Mat fees apply only to visiting aikidoists not to NY Aikikai members.
Non USAF USAF
One Day $25.00 $20.00
One Week $60.00 $60.00
Two Week $90.00 $90.00
Three Week $130.00 $130.00
MAT FEES
• Mat fees are permitted only to visiting students who are active members in other aikido dojos besides the New York Aikikai. We ask that visitors bring their respective kyu or dan books with them. If a student is not ranked it is considered proper etiquette to bring a letter of introduction from the head instructor of the dojo the student belongs to.
IMPORTANT INFORMATION ON CANCELATION OR SUSPENSION OF MEMBERSHIP
• Our electronic payment system operates on a monthly basis. We require a minimum of 30 days notice in order to process a leave of absence, suspension of monthly membership or cancellation of membership,
in order to freeze or discontinue payments.
• There are no refunds for dues once a member has trained one or more days during any month.
• Exceptions for suspension of dues because of injuries or illnesses will be made on an individual basis.
In such cases, the member must contact the New York Aikikai immediately. If the New York Aikikai is not notified immediately, refunds or partial refunds will incur a service charge of $25.
• Refunds in cases where the New York Aikikai is not notified of a student's desire to cancel membership, whether due to negligence or accidental circumstances, a service fee of $25 per month will apply to refunds if a refund is granted.
Share this article
Related Posts