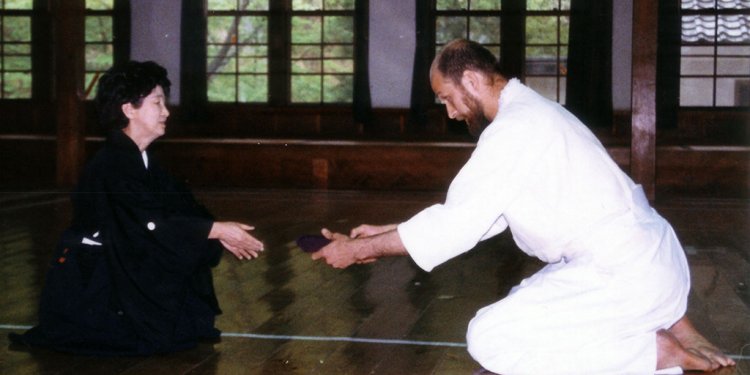 Terry Dobson Aikido
A turning point came in my life one day on a train in the suburbs of Tokyo, in the middle of a drowsy spring afternoon. The old car clanked and rattled over the rails. It was comparatively empty—a few housewives with their kids in tow, some old folks out shopping, a couple of off-duty bartenders studying the racing form. I gazed absently at the drab houses and dusty hedgerows.
At one station the doors opened, and suddenly the quiet afternoon was shattered by a man bellowing at the top of his lungs, yelling violent, obscene, incomprehensible curses. Just as the doors closed, the man still yelling, staggered into our car. He was big, drunk and dirty. He wore laborer's clothing. His front was stiff with dried vomit. His eyes bugged out, a demonic, neon red. His hair was crusted with filth. Screaming, he swung at the first person he saw, a woman holding a baby. The blow glanced off her shoulder, sending her spinning into the laps of an elderly couple. It was a miracle that the baby was unharmed.
The couple jumped up and scrambled toward the other end of the car. They were terrified. The laborer aimed a kick at the retreating back of the old lady. "YOU OLD WHORE !" he bellowed, 'I'LL KICK YOUR ASS!" He missed, the old woman scuttled to safety. This so enraged the drunk that he grabbed the metal pole in the center of the car, and tried to wrench it out of its stanchion. I could see that one of his hands was cut and bleeding. The train lurched ahead, the passengers frozen with fear. I stood up.
I was young and in pretty good shape. I stood six feet, and weighed 225. I'd been putting in a solid eight hours of Aikido training every day for the past three years. I liked to throw and grapple. I thought I was tough. Trouble was my martial skill was untested in actual combat. As students of Aikido, we were not allowed to fight.
My teacher, the founder of Aikido, taught us each morning that the art was devoted to peace. "Aikido, " he said again and again, "is the art of reconciliation. Whoever has the mind to fight has broken his connection with the universe. If you try to dominate other people, you are already defeated. We study how to resolve conflict, not how to start it."
I listened to his words. I tried hard. I wanted to quit fighting. I even went so far as to cross the street a few times to avoid the chimpira, the pinball punks who lounged around the train stations. They'd have been happy to test my martial ability. My forbearance exalted me. I felt both tough and holy. In my heart of hearts, however, I was dying to be a hero. I wanted a chance, an absolutely legitimate opportunity whereby I might save the innocent by destroying the guilty.
"This is it!" I said to myself as I got to my feet. : This slob, this animal, is drunk and mean and violent. People are in danger. If I don't do something fast, somebody will probably get hurt. I'm gonna take his ass to the cleaners."
Seeing me stand up, the drunk saw a chance to focus his rage. "AHA!" he roared, "A FOREIGNER! YOU NEED A LESSON IN JAPANESE MANNERS!" He punched the metal pole once to give weight to his words.
I held on lightly to the commuter-strap overhead. I gave him a slow look of disgust and dismissal. I gave him every bit of piss-ant nastiness I could summon up. I planned to take this turkey apart, but he had to be the one to move first. And I wanted him mad, because the madder he got the more certain my victory. I pursed my lips and blew him a sneering, insolent kiss. It hit him like a slap in the face. "ALL RIGHT! he hollered, "YOUR GONNA GET A LESSON." He gathered himself for a rush at me. He'd never know what hit him.
A split-second before he moved, someone shouted "HEY!" It was ear splitting. I remember being hit by the strangely joyous, lilting quality of it- as though you and a friend had been searching diligently for something, and he had suddenly stumbled upon it. "HEY!"
Share this article
Related Posts