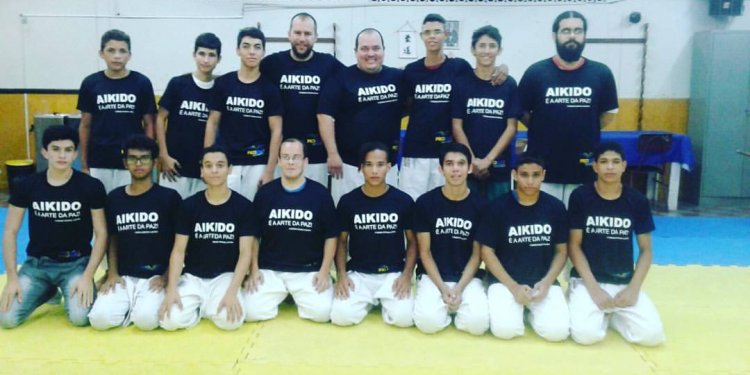 Santa Cruz Aikido
Aikido of Santa Cruz offers ongoing Beginners Classes for adults (ages 13 & up). Join any time! Taught by experienced and supportive black-belt instructors, these classes encompass the Aikido philosophy of harmony and nonviolence, and its physical expression in techniques. In the Beginners Classes, you will learn to fall safely, to relax under pressure, to move fluidly with a partner, and to apply the principles of harmony to self-defense. Whether or not you choose to continue training, you will gain a basic understanding of one of the most profound and graceful martial arts in the world.
Beginners Classes meet 3 times a week: Tuesdays & Thursdays 5:45-7:00 pm, and Saturdays 9:00-10:15 am. Join anytime! Please arrive at least 15 minutes before class to register.
$75 for 4 weeks (12 days) of Beginners Classes.
Or: $150 for the Deluxe Intro Package: in addition to 4 weeks of Beginners Classes, you will receive a free training uniform, a copy of the acclaimed book Journey to the Heart of Aikido, by ASC chief instructor Linda Holiday, plus 4 weeks additional unlimited training after the Beginners Classes, with students of all levels!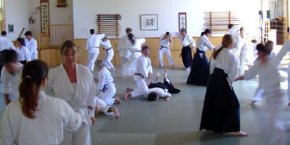 After four weeks of the Beginners Classes, you are invited to continue your Aikido training in the many ongoing adult Aikido classes offered by Aikido of Santa Cruz. There are two "Intermediate" classes every week that focus on basic Aikido skills and techniques for newer students. In the "All Levels" classes, students of all levels train together. Both Intermediate and All Levels classes are open and welcoming to graduates of the Beginners Classes.
Aikido for Kids and Teens
Aikido of Santa Cruz also offers very popular and well-respected programs for young people, divided into three age groups: ages 6-9, 9-12, and 13-18 (Teens). These programs are led by senior black belt instructors who teach the philosophy and practice of Aikido in an age-appropriate and enjoyable way. Classes include non-competitive Aiki games, stretching, rolling, and Aikido partner practices. The emphasis throughout is on having fun and learning cooperatively. Through these classes, young people develop coordination, confidence, and respect for themselves and others. Please call us to inquire about enrolling in the young people's classes. Teen students are also welcome to enroll in the Adult classes.
Mondays
3:15 - 4:15PM: YOUNG PEOPLE (Ages 6 - 9)
4:30 - 5:30PM: YOUNG PEOPLE (Ages 9 - 12)
6:00 - 7:15PM: INTERMEDIATE (Adults)
7:30 - 8:15PM: ADVANCED (Adults)
Tuesday
10:00 - 11:30AM: ALL LEVELS (Adults)
4:30 - 5:30PM: TEEN (Ages 13-18)
5:45 - 7:00PM: BEGINNING (Adults)
7:00 - 8:30PM: ALL LEVELS (Adults)
Wednesday
3:15 - 4:15PM: YOUNG PEOPLE (Ages 6 - 9)
4:30 - 5:30PM: YOUNG PEOPLE (Ages 9 - 12)
Share this article
Related Posts