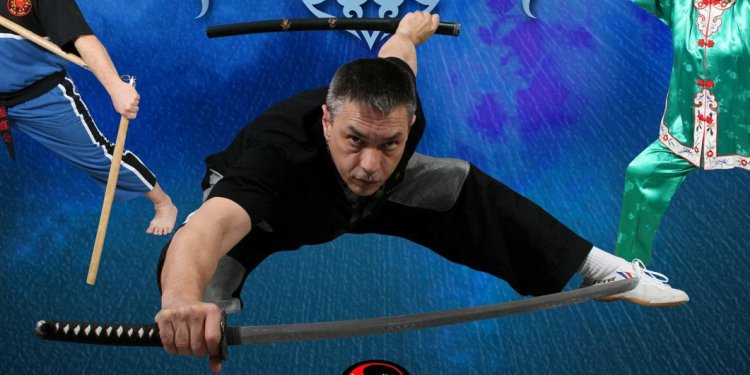 Karl Geis Aikido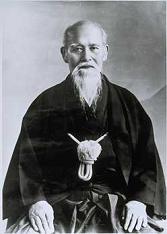 Tomiki Ryu Aikido (富木流合氣道)
Aikido
Aikido was founded by Ueshiba Morihei (1883-1969), based mainly on Daito-ryu Aikijujutsu as taught by Takeda Sokaku. The unique philosophical aspects of Aikido come from Ueshiba sensei's involvement in the Omoto Kyo religion, a modern Shinto sect, which promotes "the achievement of personal virtue as a step to universal harmony."
Ueshiba sensei studied the following arts:
Jukenjutsu (military training)
Tenjin Shin'yo-ryu jujutsu (Tozawa Tokusaburo 1901) - Menkyo
Goto-ha Yagyu Shingan-ryu ken/bo/yawara (Nakai Masakatsu 1903-1908) - Menkyo
Kodokan Judo (Takagi Kyoichi 1911)
Daito-ryu aikijujutsu (Takeda Sokaku 1915-1937) - Kyoju Dairi
Kukishinden Tenshin hyoho, Takagi Yoshin-ryu taijutsu (1920s)
Yagyu Shinkage-ryu kenjutsu (Gejo Kosaburo 1925-1930s)
Kashima Shinto-ryu kenjutsu (Iida and Aoki 1937~1939)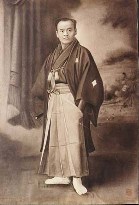 Daito-ryu is said to have originated as a family art of the Aizu clan, passed to Ueshiba's teacher Takeda Sokaku (1859-1943) via his grandfather Takeda Soemon (1758-1853), then referred to as "Aiki In-Yo-Ho". The name "Daito-ryu" is not known prior to Takeda Sokaku, and is generally regarded to be based on oshikiuchi (the Aizu fighting system used inside a castle) and Ono-ha Itto-ryu kenjutsu (largely a dueling system).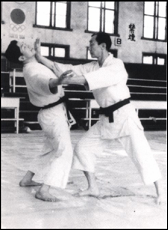 Interestingly, his adoptive grandfather Kanenori Dengoro Kurokochi (d.1868) practiced "Shin Muso Muraku-ryu Iaijutsu" which was the family style of the Aizu clan (along with Muso-ryu Jujutsu).
Takeda Sokaku is said to have studied the following arts under these teachers:

Takeda Sokichi (SUMO, BOJUTSU)
Kanenori Dengoro Kurokochi (TAKADA-HA HOZOIN RYU SOJUTSU, INAGAMI SHINMYO-RYU JUJUTSU)
Sakakibara Kenkichi (JIKISHINKAGE RYU)
Touma Shibuya (ONO-HA ITTO-RYU KENJUTSU)
Saigo Tanomo AKA Hoshina Chikanori ("OSHIKIUCHI")
Momoi Shunzo (KYOUSHIN MEICHI RYU)
Sakai Gonemon (HONSHIN KYOUCHI RYU KENSOU JUTSU)
Takeda Sokaku defined aiki in the following way: "The secret of aiki is to overpower the opponent mentally at a glance and to win without fighting." This principle (similar to saya no uchi) is also a foundation of Ueshiba sensei's Aikido.
Tomiki Aikido
Tomiki Kenji was a Judo godan and national competitor when he met Ueshiba sensei. He became a lifelong student, Aikikai instructor, and was the first person awarded 8th degree in Aikido. Tomiki sensei studied during the pre-war Daito-ryu period, and his approach to constructing an Aikido syllabus included principles from Judo and his research in the Kodokan archives. Tomiki Aikido includes robust open-hand atemi ("striking" throws) and combines the aiki of DAITO-RYU with the KITO-RYU tradition of paired responses, wherein resisting one technique always creates an alternative.
Tomiki sensei developed an Aikido "alphabet" consisting of transitional releases (vowels) and finishing techniques (consonants). With this, Tomiki sensei found he could duplicate all the "10, 000" techniques of Ueshiba sensei's Aikido. Tomiki sensei used this concept to create a system of formal katas to train fundamentals and techniques in a consistent and organized way.
Share this article
Related Posts