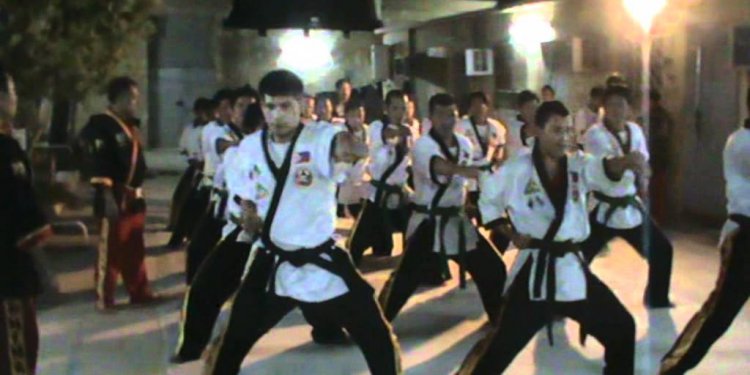 Combat Aikido
In other words history and description of our activities
Combat is struggle. Combat is fight. When linked to a particular martial art this concept defines techniques, tactics and ways we react in situations of immediate dangers, sport fight, self-defense and martial system that might be learned quickly, e.g. Combat Karate, Combat Kalaki, Combat Ju-Jitsu or Combat Tai-Chi. Frequently, it includes completing a style with techniques adequate to contemporary perils (e.g. shotguns ) and with elements of local martial systems , like Combat Aikido in Philippines or Combat Hapkido in Korea. These are the words of O`Sensei Morihei Ueshiba, founder of Aikido:
Techniques of Aikido are subdued to constant changes; each and every encounter is unique and a proper reaction shall appear naturally. Today's techniques will be out-of-date tomorrow. Do not be misled by challenges, their forms and deceptive appearances.
Despite the fact that the term `combat is mostly associated in Poland with uniformed services and trainers of martial arts and martial sports, the aims are basically the same, to teach real self-defense.
Aikido displays an enormous potential when it comes to martial arts and self-defense. Through the appropriate and all-around training it is certainly possible to master particular martial techniques quicker and let aikido be used successfully in realistic defense. That is the real idea for bringing to life Combat Aikido and all the differences towards other aikido schools.
Besides aikido, in AZCA`s clubs are taught karate and ju-jitsu, since their techniques are essential to master the intricacies of real self-defense (the head-instructor is formally and practically prepared to conduct examinations). The agenda of activities is constructed in such a way that all the techniques of mastered styles become a uniformed system, teaching identical reactions determined by varied attacks and situations.
For some years, there have been taken measures to work out precise regulations towards sport fight. All the regulations naturally shall follow the aikido rules, where ability to utilize the strength of attack, tempo, body coordination will be assessed, along with perfect technique and counter technique usage in combat.
1990 -

1994 -

1996 -
1996 -

2002 -
2003 -
2005 -

2006 -
2007 -

In Jarosław aikido section is founded (a branch of Rzeszów`s club). The club is closely related to The Polish Aikido Union
The classes are taught by Wiesław Pikor (at present the President and Head-Instructor at AZCA
A child section in Jarosław is founded
The Autonomic Aikido Association is founded. Within its frames operates the club from Jarosław, along with aikido centers from Lublin, Tarnobrzeg and Łomża. During the classes, besides aikido, elements of Combat Ju-Jitsu are mastered. The AAA was the style organization of The Polish Federation of Far East Martial Arts, with its centre in Warsaw.
The name of the club is changed into Combat Aikido Jarosław
CA establishes its branch in Przemyśl
Disciples at Jarosław club take the initiative to establish The Association of Physical Culture named The Autonomic Combat Aikido Association. Since that time the School operates within frames of The Polish Federation of Martial Arts and Defensive Sports, with its centre in Zarzecze, near Żywiec
CA club in Pruchnik is founded. Classes are taught by Sylwester Potoczny
Share this article
Related Posts