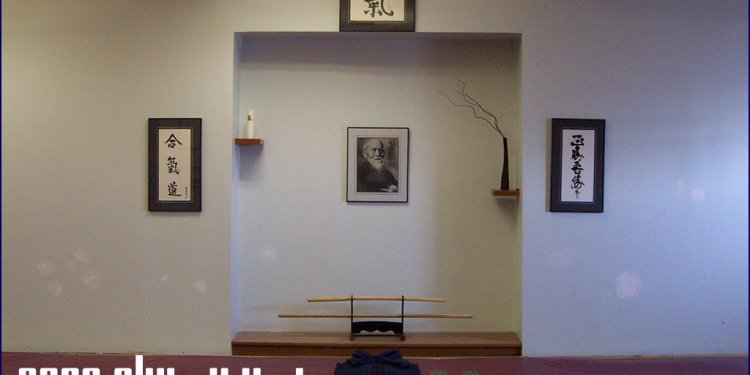 Aikido Winnipeg
Welcome to Aikido of Winnipeg in Winnipeg, Manitoba, Canada. Founded in 1991, Aikido of Winnipeg was established as a not-for-profit dojo at its current location in 2004. The chief instructor, Doug Reichert, is a Yondan (4th Dan) registered with the Aikikai Honbu dojo in Tokyo, Japan.
The Aikido of Winnipeg dojo trains in the Iwama style of Aikido as passed on from Morihei Ueshiba (O'Sensei), to Morihiro Saito Sensei. We are a proud member of the California Aikido Association under the direction of Patricia Hendricks Shihan.
With a focus on mind, body and spirit co-ordination, there is an emphasis on clear, precise, basic movements which with consistent practice become graceful and effective.
Beginners are consistently treated with care and respect in our creative and challenging atmosphere. You may wear loose clothing and join us for one complimentary, introductory class at any time. Come to either the Monday or Friday class at 6:30 - 7:30 pm.
Morihiro Saito Sensei (1928 - 2002)
He was the longest serving student of O-Sensei, having trained with him for 23 years, and since O-Sensei's passing, was the head of the Iwama dojo and the keeper of the Aiki Shrine. Saito Sensei was renowned throughout the world for his depth of technical knowledge, and his virtual single-handed dissemination of Aikido weapons.
Saito Sensei had been training Aikido for more than 50 years, and was regarded as the world's technical expert on Aikido. With over more than 30 years of teaching Aikido, he is the author of a highly acclaimed series of reference training manuals, and has traveled extensively around the world conducting seminars and spreading the founder's legacy.
Saito Sensei tried to preserve and teach the art exactly as it was taught to him by the Founder. Technically, Iwama Ryu resembles the Aikido that O-Sensei was teaching in the early 50's mainly in the Iwama dojo. The technical repertoire is larger than in most other styles and a great deal of emphasis is placed on weapons training.
O-Sensei
The Japanese word Aikido consists of three characters which can be translated as "the way of unity with the fundamental force of the universe."
Aikido is a true Budo or "Martial Way." It has evolved in the historic tradition of Japanese warrior arts. It must be understood that studies in earnest Budo is more than a science of tactics and self-defense; it is a discipline for perfecting the spirit.
Aikido was developed by Morihei Ueshiba (1883 – 1969), known to thousands of students of Aikido throughout the world as O-Sensei (Great Teacher). Even as a young man, Morihei Ueshiba was an extraordinary martial artist; a master of the sword, the staff, the spear, as well as the art of ju-jitsu. But O-Sensei also had a strong spiritual drive, and brooded over the futility of a path based on victory over others.
Leading a life of austerity and rigorous training, O-Sensei struggled with this dilemma. He delved deeply into the study of religion, especially Shinto, (Japan's native religion of nature worship). The dilemma was resolved in a moment of profound awakening. Transformed by his spiritual insights, Ueshiba transmuted his technical mastery of traditional martial arts into a new martial art. The art of Aikido was one that was fundamentally different from those that preceded it. It was also one of refinement and astonishing power.
"The secret of Aikido, " he wrote, "is to harmonize with the movement of the universe and bring ourselves into accord with the universe itself."
O-Sensei maintained that Budo is a work of love, a path to overcome discord in ourselves and bring peace to the world, "To make the heart of the universe one's own heart." O-Sensei taught that true awareness is not grasped by intellect alone. "This is not mere theory, " he said. "You must practice it."
Hitohira Saito Soke
Hitohiro Saito Sensei was born in Iwama, the son of the late Morihiro Saito Sensei. Hitohira Sensei was born into this great Aikido tradition and started training when he was seven under O'Sensei and continued training under his father (Saito Sensei). Now, Hitohira Sensi runs the dojo and organization that he founded, the Iwama Shin Shin Aiki Shurenkai.
Patricia Hendricks Shihan, 7th Dan
In 1975, Pat Hendricks started her Aikido career in Monterey, California. Since 1977, she has traveled frequently to Japan for extended periods of time to study as a live-in student under Saito Sensei in Iwama. Her own dojo, Aikido of San Leandro, attracts students from all over the world, including Japan. Hendricks Sensei holds the highest degree possible in Aiki Ken and Jo Certification and is certified to test for the United States.
Aikido of Winnipeg Instructors:
Doug Reichert Sensei, 4th Dan
Doug Sensei began training in Aikido in 1992 with the Ki Society (Shin Shin Toitsu - as a student of Lance Sensei) and transferred to Iwama Ryu Aikido in 1999. He became head instructor of the Aikido of Winnipeg dojo in August, 2004. Doug Sensei makes a pilgrimage to the Aikido of San Leandro dojo twice a year to study under Hendricks Shihan.
Leanne Reichert Sensei, 3rd Dan
Leanne Sensei is the assistant instructor and teaches the advanced class on Mondays and the basics class on Fridays.
Leanne Sensei began her Aikido training at the Kasukabe Dojo in Saitama Ken, Japan; under the direction of Horikoshi Sensei, 7th Dan. She achieved the rank of Shodan in the two and a half years that she was there.
During the day, Leanne Sensei is a massage therapist with her own business operating out of her home.
Gillian Sadler Sensei, 2nd Dan
Gillian Sensei is an assistant instructor and teaches the basics class on Mondays
Gillian Sensei began training in Aikido in 2003 with the Aikido of Winnipeg dojo. She has also travelled several times to San Leandro, CA to train as uchi deshi with Hendricks Shihan.
Share this article
Related Posts