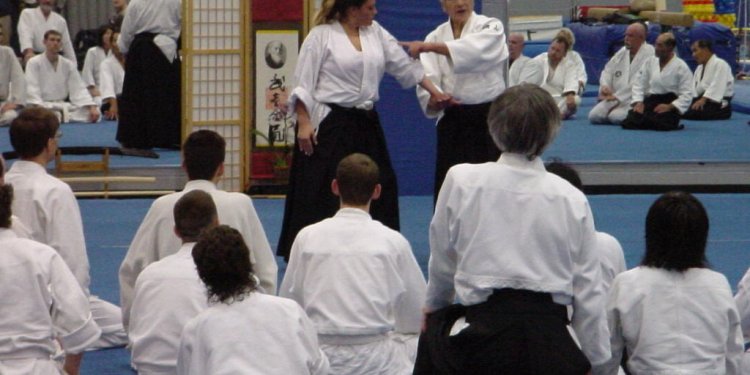 Aikido Washington State
Aikido can increase your child's self-confidence, concentration and coordination. It will help your child develop skill sets that will carry over into other parts of life. Kids are taught centering, grounding, posture, and basic martial arts techniques. These will aid them in their ability to focus and stay calm in difficult situations. Classes are co-ed and multi-age, with experienced students mentoring newer ones. Children learn through traditional Aikido instruction as well as through games and exercises; classes are fun and rewarding for your child.
Why choose Seattle School of Aikido for your child?
Simply put, we bring decades of experience in working with kids to the table.
The kids program at Seattle School of Aikido is taught by numerous instructors. The program is supervised by Helmut Floss, yondan (4th degree black belt) in Aikido. Helmut has over 18 years of experience in Aikido as a former instructor for Two Cranes Aikido, and he was a large part of the success in their kids program. Assistant instructors include Evan Bucy and other yudansha and students training at Seattle School of Aikido.
All instructors at Seattle School of Aikido pass a background check with Washington State to ensure that your child is in good hands.
What will my child learn?
Aikido, as well as other martial arts, teaches children discipline, gratitude, a sense of personal accomplishment, and a sense of respect for themselves and others. Children learn to work together, maintain healthy boundaries, and train in a non-competitive and supportive environment. We accomplish this by both physical practice of techniques and instruction in manners and etiquette.
Dojo etiquette is a very important aspect which can translate to better manners and behaviors outside the dojo. Etiquette in the dojo can be quickly summarized as proper respect for others, courtesy, and patience while working with others. Knowing how to behave in a dojo is very important since it fosters an environment that encourages learning and personal development. Dojo etiquette also helps create a safe environment in which to practice. The physical techniques include instruction in falling and tumbling (known as ukemi), basic throws, and restraining methods found in Aikido.
Classes are open to children ages 5 to 18. Parents and guardians of potential new students must observe at least one full class prior to enrolling their child.
Once enrolled, please always arrive early to class to allow time for the children to change clothes and settle mentally prior to the start of class. Parents and guardians are welcome to observe classes, but we ask that parents refrain from attempting to instruct their children from the sidelines.
If you have any questions that have not been answered in our FAQ, please feel free to contact us at kids [at] seattleschoolofaikido [dot] org or by calling the dojo during class hours at 206-525-1955.
Share this article
Related Posts