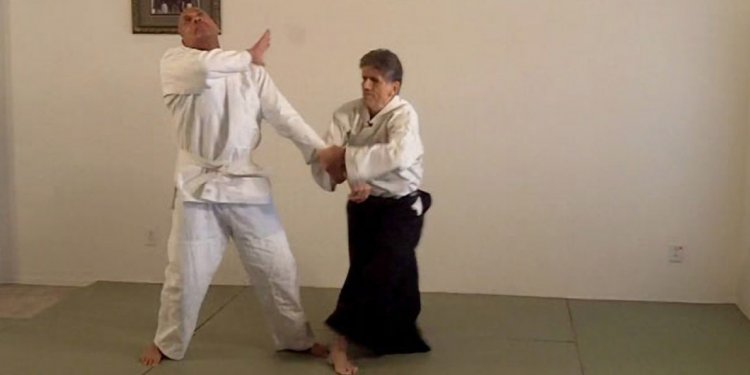 Aikido Shihonage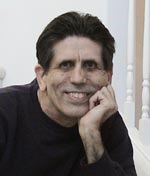 By |
Martial arts techniques are designed to damage the human body. Misuse or carelessness can result in serious injury or death. As a result, we have to take precautions during training to allow participants to practice safely.
Among the hundreds of techniques in aikido, there are several that are particularly dangerous. One of them is shihonage, "the four-direction throw."
In his seminal article titled "Aikido and Injuries: A Special Report, " Waseda University professor Fumiaki Shishida implicates shihonage as one of the techniques causing numerous deaths in university clubs in Japan. Here is an excerpt: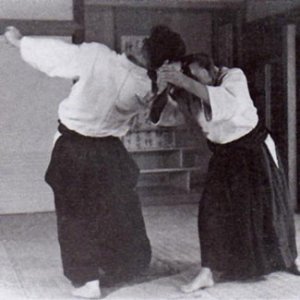 As can be seen from the above cases, shihonage and iriminage stand out as techniques causing the accidents. In both techniques, it is easy to hit the back of one's head with the inherent danger of a cranial hemorrhage. Let us first of all consider the case of shihonage. In this technique, the tori holds one hand of the uke and turning his body, causes the uke to fall backward. If the tori does this continously, it becomes increasingly likely for the uke to hit the back of his head depending on the speed, strength and point of release of the hand hold.
In these cases, it was repetitive head injuries in the university clubs where hazing is common that caused the deaths of the unfortunate students.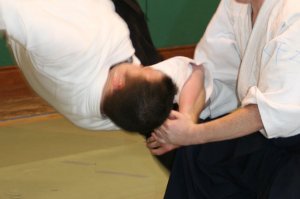 Morihei Ueshiba executing a "safe" shihonage (1936)
Shihonage is the culprit in another kind of serious injury in aikido. Although not lethal, improper execution of shihonage has led to numerous serious shoulder, elbow and wrist injuries. The way this usually happens is when nage doesn't make a complete turn when performing shihonage leaving uke's arm hyper-extended and unprotected. Experienced ukes may avoid injury by taking a high fall to escape the intense pressure on the arm. However, practitioners who are less advanced may be overwhelmed by the pain caused and lack the skills to escape injury to the wrist, elbow or shoulder. In some cases, promising aikido careers have been ended as the victims have been left with chronic pain and loss of function in the injured areas.
In shihonage, it is important to fully pivot bringing uke's arm back to his shoulder controlling the wrist. From here a safe back fall is possible. A rapid, incomplete pivot where uke's arm is extended away from his body — as pictured in the color photo above — will leave him exposed to serious injury.
One other point I feel must be mentioned is the fact that there are are occasionally violent people who practice aikido. They train very hard pushing their uke to the limit and leave a trail of injuries in their wake. Some of these injuries are caused intentionally. Anyone who has practiced aikido for a long period of time has encountered such individuals in their careers and knows well what I am talking about here.
Share this article
Related Posts