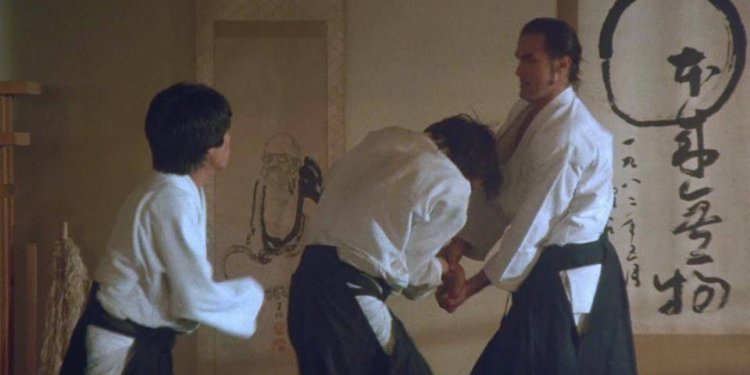 Aikido Seagal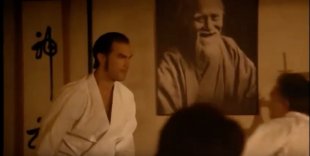 It's December of 1981 in Osaka, Japan. Steven Seagal Sensei holds a farewell demonstration at an event celebrating his return to America and the founding of Tenshin Dojo in the United States. Seiseki Abe Sensei (10th dan) and Hiroshi Isoyama Sensei (8th dan) are in attendance.
The thundering demo takes place in a room with no tatami. Haruo Matsuoka and two other ukes take ukemi. There are no smartphones and no consumer video cameras. One man has the foresight to bring an 8MM camera and film the event. That man was Shiro Matsuoka, Haruo Matsuoka Sensei's father.
The event was held to commemorate Steven Seagal's move to America. It was the beginning of a new era for Haruo Matsuoka, Steven Seagal, Craig Dunn, and the art of aikido.
During the party's aikido demo, Tohei Sensei's influence can still be clearly seen in Seagal Sensei's movements, but what would become his distinctive deflections, throws, and randori style are all already well developed. The ukes Seagal Sensei called on (Matsuoka Sensei, Hisanori-san, and Peter Littlewood) took repeated high falls on a hard floor. A testament to the group's legendary ukemi skill, no one was injured. When I asked Matsuoka Sensei about it, he said "It was like nothing. No problem."
It was also during this event that Seiseki Abe Sensei gave Steven Seagal Sensei one of O-Sensei's calligraphy pieces. It reads Shin Bu, or "Warrior Deity." This gift was gratefully accepted and served as a focal point for the shomen of Tenshin Dojo LA, until its closure at the end of 1997. The piece can be seen in our 8MM video and it was also featured in the dojo scene in the 1988 feature film, Above the Law.
Dawn of a New Era
After the event, Steven Seagal left Japan and moved to the United States with Craig Dunn to open Tenshin Bugei Gakuen, a martial arts and cultural center, in Taos, New Mexico. Encouraged by his relationships and guidance from entertainment industry icons James Coburn, Irvin Kershner, and John Frankenheimer (all visited Tenshin Dojo Osaka), Seagal Sensei came to America with the intent to pursue projects in the entertainment industry.
Steven Seagal Sensei's move from Osaka to the United States started a chain of events that resulted in a series of Hollywood films that offered powerful, but controversial depictions of aikido and in so doing, generated massive visibility for the art around the world. Through the films and the traditional instruction offered at Tenshin Dojo, many resolved to develop themselves as aikidoka. In the ensuing decades, tens of thousands were inspired and many great instructors were forged.
The Original Plan
Before moving to Los Angeles, the original intention was to set up home base in Taos, New Mexico. Steven Seagal had a spiritual teacher that suggested Taos as an ideal location to found a Japanese cultural center. Wishing to share aikido, tea ceremony, calligraphy, and the healing arts, Seagal recruited Craig Dunn to join him in founding the Taos dojo. Seiseki Abe Sensei was flown to visit on two separate occasions and Seagal Sensei even crossed paths with the legendary Guro Dan Inosanto in Taos.
Within a couple years, it was decided that Taos was beautiful but not easily accessible from Los Angeles, the world's entertainment hub. Seagal Sensei left for Los Angeles in 1983 with Craig Dunn Sensei staying behind in Taos. Craig has faithfully stewarded what is now Taos Kihon Dojo (formerly Tenshin Bugei Gakuen) from 1981 until now, with a 35 year operating history.
Matsuoka Sensei in Osaka
After the farewell party in December 1981, Haruo Matsuoka remained at the Osaka Tenshin Dojo to finish his college studies. He later joined Seagal in Los Angeles and played an instrumental role in the creation of Above The Law which served as a platform for launching a series of high profile action films.
Shortly after Seagal Sensei departed for America, Matsuoka Sensei's senpai at Tenshin Dojo Osaka left as well, leaving Matsuoka Sensei the responsibility of teaching almost all the classes (12 / week) at major dojo while still a 23 year old college student. We found this facet of the story so interesting that we will feature a future post detailing this period of Matsuoka Sensei's aikido career.
The Demo
We hope you enjoy these highlights from the event. To me, the most impressive element of the demo is the ukemi. Seeing the floor and seeing the falls showed me what real ukemi is. Knowing that none of the uke were injured in any way is a testament to their skill and the movement science behind their ukemi. It doesn't matter how tough you are. Without effective movement, you will be wrecked from the ukemi shown in this video. All three ukes were fine after the event.
Share this article
Related Posts