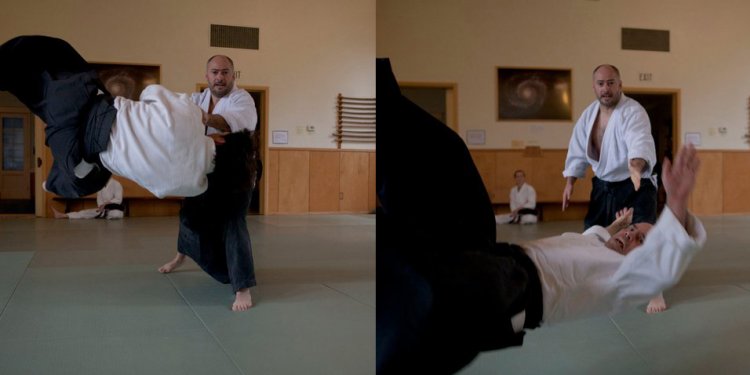 Aikido of Santa Cruz
And...
Welcoming once again from Kumano, Japan:
About | Retreat Instructors | Options, Registration & Payment | Lodging, Transportation, Meals & Parking | Contact & Forms
The Santa Cruz Aikido Summer Retreat generates a training atmosphere of sincerity and mutual respect. We are committed to equal opportunity for Aikidoists of any gender, race, nationality, sexual orientation or rank. We aim to integrate body, mind and spirit in the practice of Aikido, founded by Morihei Ueshiba O-Sensei.
Our theme for the 2016 Summer Retreat is Opening the Stone Door – Light, Love, & Purification: O-Sensei's Hopes for Aikido. The founder of Aikido frequently referred to "Opening the Stone Door, " and we will explore its significance in our practice during the Retreat. In Japanese mythology, the world was plunged into darkness when the sun goddess Amaterasu Omikami withdrew into a cave and closed the stone door at the entrance. The deities gathered together and performed a dance – the first kaguramai – to draw her out of the cave. The Stone Door opened, and light returned to the world. O-Sensei described Aikido as the "Second Opening of the Stone Door".
It will be a joy to train together once again with Motomichi Anno Sensei from Kumano, Japan, and with senior Retreat teachers who have dedicated their lives to the Aikido path: Mary Heiny Sensei, Linda Holiday Sensei, and special guest instructors. Together with all the Aikidoists who gather at the Santa Cruz Retreat from multiple dojos, it will once again be a joyous synergy. Please join us to "Open the Stone Door" together!
"Please forge your spirit through daily training. Together with all of you
I want to advance the cause of peace everywhere in the world."
-Morihei Ueshiba O-Sensei
Daily immersion in Aikido catalyzes deep learning and strengthens a sense of community with others sharing the experience. Training begins at 7:00 am and continues throughout each day, with classes for the whole Retreat community as well as special sessions for students ikkyu and below, and for those with black belts. And everyone is invited to the invigorating Misogi Purification Practice on the beach on Sunday morning!
The intention of the Santa Cruz Retreat is to be a full five-day Aikido intensive, which enables the transformative "magic" of the Retreat to build from start to finish. As such, there are just two options for participation: all five days (=Wednesday night through Sunday noon), or, for those who need it, a three-day option (=Friday, Saturday, and Sunday). Please note: there are no single-class or single-day attendance options! (See details in the "Options, Registration & Payment" page.) We invite you to invest this uninterrupted time in your Aikido practice.
The 2016 Summer Retreat will be held once again at the Santa Cruz Civic Auditorium, in the heart of downtown Santa Cruz. Built in 1939 and host to many of the city's most beloved events, "the Civic" has a spacious training area, ample seating areas, and a great atmosphere. It is within easy walking distance of our dojo, numerous restaurants, parking lots, and city bus lines. Train in the heart of Santa Cruz!
Group photo from the 2015 Santa Cruz Aikido Summer Retreat
"Aikido is a method of purification (misogi).
Through the technique of misogi you should continually forge
the great spirit of love and protection of all things."
-O-Sensei
Share this article
Related Posts