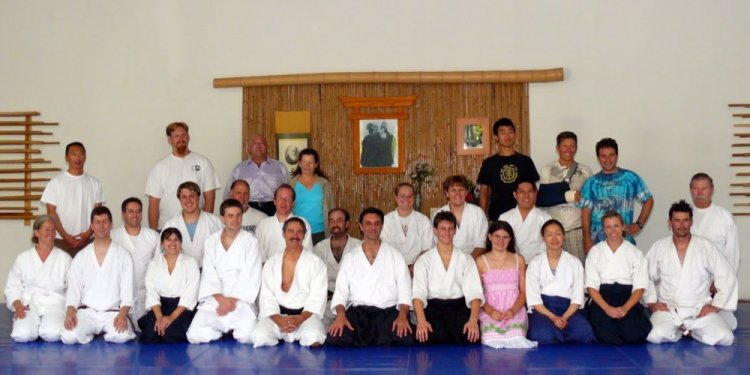 Aikido of San Diego
This is our general class open to all adult/teen members. Practice focuses on skills in body and mind, applying and receiving technique, Aikido principles, and authentic embodiment. We transition into more complex work as it's appropriately needed.
"Form and Flow, Mixed w/Sticks" Class
This class includes the work we do with the traditional Aikido weapons system, and our ongoing creative exploration through the use of implements in our training. We primarily use the wooden staff and sword, but our work is not limited to that.
The "Aikido Lounge"
This is a less formal gathering (no uniform necessary) held on various Fridays each month, and is open to the public at no cost. Generally, an Aikido principle is introduced at these gatherings, and then we play with it in embodied Aikido ways. Wear comfortable clothes appropriate for some movement, and bring an open mind and spirit of exploration.
Pre-Class "Tech Support"
This is an open time before classes on Wednesday and Thursday for beginners to get some focused guidance on the most fundamental technical elements of training. It's not required for beginners to attend as basics are normally woven into regular classes as needed, but it's a valuable opportunity to focus on it prior to class. Come to work on things like a proper stance, body awareness, footwork, safe rolling and falling, handling wood swords and staffs properly, etc.
The "Open Mat"
Our members self-organize this training get-together each Sunday—typically in mid afternoon. Work on the content for your next rank, or on some things you want to put extra time into, or use it to play around with some new ideas. It's up to you. New members who need some extra support may arrange for more experienced members to meet them before the open mat.
Observe a Class or Participate in an Aikido Lounge
If you are considering joining the dojo, it's highly recommended that you either observe a class or join us in an Aikido Lounge first.
There is a shoe rack inside the lobby for your shoes, and two rows of chairs near the mat for observers.
Sensei or another instructor will be happy to answer any questions.
If you are joining us in an Aikido Lounge, please be sure to arrive before the 6:15 start time.
Joining Us
Registrations are personally done with Sensei. Please plan to register before classes, or at class ending times. Allow about 25 minutes please. If you need to register another time, just email or call for an appointment. We will gladly accommodate you.
Goldberg Sensei is normally at the dojo Monday through Thursday afternoons and evenings, various Fridays for the Aikido Lounge, and on some Saturday mornings.
Training Visits
Experienced Aikido practitioners visiting from out of town, or locals who are full-time members in other Aikido programs are welcome. If you are here on business, visiting family, or on vacation, please come by to train! The mat fee is $15 per day. (Cash, please.)
Beginners sometimes ask if they may try a class… After either observing a class or joining us in an Aikido Lounge, a single complementary class may be scheduled if you still feel you need to "try it out" before joining us.
Rent Our Space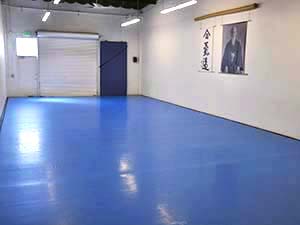 Visit Us
Observers & visiting Aikidoka are always welcome.
The dojo is 2 minutes from I-15 and I-8,
near Friars and Mission Gorge Rd
6356 Riverdale Street
San Diego, CA 92120
Directions
Taking public transportation?
Use the MTS Trip Planner
Connect with Us
We would love to hear from you!
Dojo phone, during class hours:
619 977-2454
Stay in touch
To get announcements and dojo news, visit and Like Aikido of San Diego on Facebook:
Get a sense for Aikido, and for the thriving community at Aikido of San Diego.
Unless otherwise specified, all content is copyright © 2000-2016, by Aikido of San Diego
Text, photos, graphics, and HTML code are protected by US and International Copyright Laws, and may not be copied, reprinted, published, translated, hosted, or otherwise distributed by any means without explicit permission.
Share this article
Related Posts