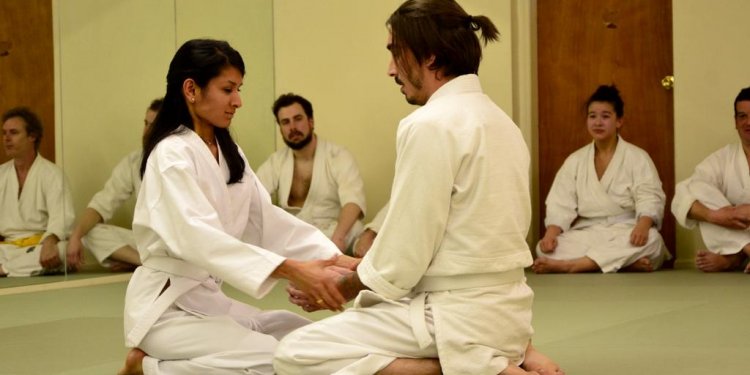 Aikido of Manhattan
62 E 4th St
Fl 5
Manhattan, NY 10003
(336) 749-3277
During the past year of training, I formed strong love with Aikido and connection with everyone within Zenshinkai Aikido of Manhattan Dojo. As a foreign student on an internship, the Dojo was more like a second family for me. I am proud of being a part of this dojo family, beloved, and training with everyone and Wagener Sensei. I have grown a lot during the last year of study. I was not physically strong at the beginning and struggling a lot at the rolling but everyone was super supportive, some of the senior students are willing to help me practicing rolling after class on their own time. I was constantly encouraged by Wagener Sensei, and that helps me a lot with my confidence in Aikido training and my life and work. Now I can see my changing not only physically but also mentally stronger after the Aikido training at Genshinkan Dojo. With the grand opening of the Dojo library, students are able to borrow some of the finest martial arts books that are invaluable not only relating to aikido, but the spirit of budo and zen. Brand new shomen, weapon racks, and nafuda has given the Dojo a more traditional setting. I am sincerely grateful to be able to grow with Zenshinkai Aikido of Manhattan Dojo and find myself dedicated to the Aikido art.
From the moment I worked up the courage to email Zenshinkai Aikido of Manhattan about attending I have felt nothing but warmly welcomed and encouraged. The sense of caring community at the dojo is palpable and yet every member has made an effort to welcome me into that community. Wagener Sensei's sense of humor, calm patience, and welcoming nature have made it a joy to return class after class. I look forward to continuing to train, growing both personally and as a member of the dojo.
I haven't been able to stay away from this dojo since my first class, about a month ago! All the advanced students have been so incredibly supportive and Wagener Sensei is an inspirational teacher. There is a strong sense of community here, and I always find myself looking forward to seeing the people here, as much as practicing aikido itself. They make me laugh, they teach me things, and they expand my life space. By the way, when someone loves what they do, YOU CAN TELL. Every single person here, whether student or teacher, *exudes* love for aikido. I literally can't stop smiling even when I'm being thrown down onto to the mat, and I'm definitely not the only one. I'm so grateful that I found this place, and I only wish Yelp would let me give it more stars. It's a not-so-hidden gem. :)
Practicing at Zenshinkai Aikido of Manhattan is consistently one of the highlights of my week. All of the students who practice at the dojo are very welcoming and make beginners and more experienced students alike feel comfortable learning in a judgment-free environment. Classes are run very traditionally, emphasizing etiquette and respect for the art form, which I can relate to very well as a classically trained dancer. It's also wonderful to practice in a school that incorporates Zen meditation. Life in New York City can get so crazy, it's nice to balance it out with such a rewarding routine. Because it is a small school (about 25 students), the instructors are able to give corrections to all the students. Wagener Sensei, the head instructor, is very invested in every students' development. While the atmosphere is very focused throughout class, everyone is encouraged to practice with joy and take good care of each other. What really spoke to me from the very start is how much importance is laid on the connection between the philosophy of Aikido and the physical techniques involved. Class isn't just about learning movements for self-defense purposes. The spirit of harmony and compassion in Aikido is always a major component of the instruction. I'm so happy to be practicing at such a wonderful school!
I cannot speak highly enough about Zenshinkai Aikido of Manhattan. I joined on my Birthday (2 month ago) and it has by far been the best gift I have ever gotten for myself. I was a bit skeptical at first as I did not know much about Aikido; however my skepticism quickly turned to excitement once my feet hit the mat. I've been tossed and twisted more during this time then I ever have in my life... And you know what. I LIKE IT! You learn real life skills from day one and it just gets better from there. I truly feel that I am apart of an extended family. Everyone here is super encouraging, even as they are tossing you to and fro. It's such a phenomenal and well kept Dojo; you really have to experience it for yourself. My focus and balance has never been so sharp. My body and mind are being challenged in ways I never thought possible. I am truly on course to becoming the better Me. The instructors are hands on and super attentive; I always feel that I am in good hands. And it is because of all of these reasons have made Aikido my art of choice and Zenshinkai Aikido of Manhattan the Dojo for me. I look forward to seeing you there... I will be the guy being tossed around :-) Peace and Blessings, Carlton
I've been attending classes at the dojo for around a month. The most fascinating thing for me when I entered the dojo - and since - has been the laughter during classes; there's a constant sense of joy in the dojo as we learn and practice, and occasionally realize how effective some techniques are (particularly on seeing expressions of surprise from uke - or managing a completely painless roll by actually doing it properly). There's also a constant undercurrent of humour throughout, with several jokes by Wagener Sensei to make everyone less tense - and to remember to breathe and not just stiffen up. Another aspect I appreciate a lot is the constant encouragement to do as much as you can - and pragmatism around the fact that life outside the dojo has a tendency to encroach on classes; we're constantly encouraged to get in as much practice as we can even if we can't arrive on time or must leave early. Last but by no means least, everyone at the dojo is ridiculously helpful and nice; from helping practice / understand techniques before, during and after class to etiquette to repeatedly helping me in tying my shiny new belt. I'd strongly recommend dropping in for a class if you're curious, it's easily more than worth the time and effort.
Share this article
Related Posts