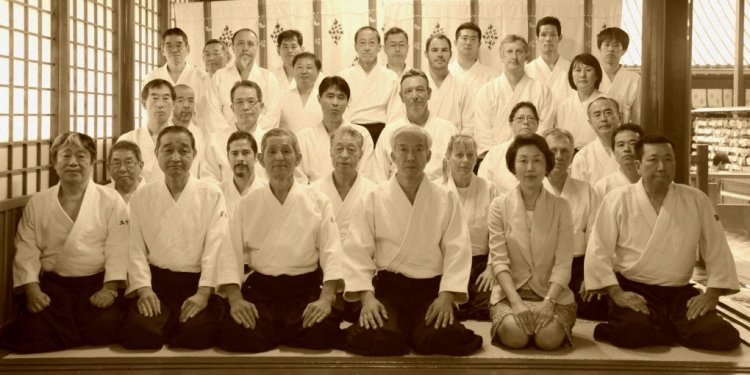 Aikido Kenkyukai
Confidence, fitness, focus, discipline, emotional strength, spiritual development... These are some of the things you and/or your child can expect to gain at Aikido Kenkyukai, making a profound change in your life.
Suzuki Sensei embodies many of the principals of Aikido and comes from a direct lineage of Aikidoka, based in Japan. What this means for the layman is she's "close to the source." She's very skilled and deeply cares about the art.
We offer weekly classes for beginner through advanced students and hold special seminars throughout the year with internationally acclaimed instructors
Our Founder and Head Instructor trained intensively in Japan for nearly 10 years. Communication and collaboration with Japanese instructors and others from around the world, continues and thrives at our school.
History
Established in 1996.
The USA branch of our organization was established in 1996 when our head instructor returned from nearly 10 years of intensive training in Japan. Dojos were founded in Philadelphia in 1996, Santa Barbara in 1999, and Los Angeles in 2013.
Meet the Business Owner
Lia Suzuki Sensei began training aikido in 1982. In 1987, she moved to Kamakura, Japan to train with master teacher, Takeda Shihan. Lia Sensei lived in Japan and trained almost daily from 1987 to 1996 receiving her 1st through 4th dan gradings (black belt ranks) at Takeda Shihan's dojo during that time.
At Takeda Shihan's urging, she returned to start dojos in the USA in 1996. Aikido Kenkyukai International ("AKI") was formed to connect all the dojos around the world that are under Takeda Shihan's umbrella.
Lia Sensei directs her energies between AKI USA headquarters in Los Angeles and her other AKI USA dojos. She conducts seminars in Great Britain, Germany, and other countries. And she continues to travel regularly to Japan to train with her teacher.
During her nearly 10-year stay in Japan, she also studied the Japanese language and culture, while continuing her practice of Aikido. She presntly holds the rank of 6th dan.
Share this article
Related Posts