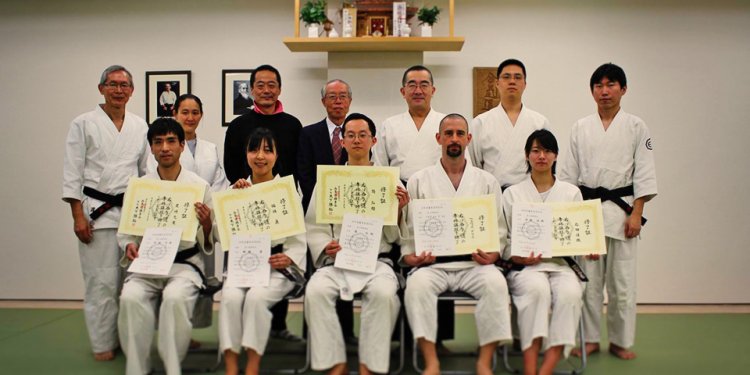 Aikido in Japan
I, the Soshihan of Aikido Kobayashi Dojo, began my Aikido career at Hombu Dojo in April of 1955. Just three months or so after I started practice, a demonstration for the public was held on the roof of the Takashimaya Department store in Nihonbashi, Tokyo. This was a great opportunity to make known Aikido to a wider audience, and featured the founder, Morihei Ueshiba. Soon after this demonstration, people began to flock to the dojo.
It was only ten years after the war, and the economy hadn't recovered yet; people didn't have much money. In that era, we thought 15 people at any practice was a lot. O Sensei would give a seminar every spring, and on the last day, he would give a demonstration. The number of days the seminar was held gradually got fewer and fewer as the years passed.
In 1960, on May 14th, the first Aikido Demonstration outside Hombu Dojo was held in the Shinjuku Yamano hall. The next year, in 1961, O Sensei went to Hawaii to attend the founding ceremony of the Hawaii Aikido Conference, so no demonstration occurred that year. That the All-Japan Aikido Demonstration (Zen Nihon Aikido Embu Taikai) wasn't held continuously was something I just became aware of as I was checking my notes and records. The 2nd All-Japan was on April 29th, 1962 at the Asahi Newspaper Hall in Yurakucho. Because of that newspaper's vigorous ad campaign for the event, so many people showed up that they couldn't all get in. In order for ordinary citizens to get a seat, the university clubs gave up their places, as I recall.
After that, the event moved to Hibiya Town Hall until 1963. The year construction of the new Hombu Dojo was completed. On the 6th anniversary of the new Hombu, O Sensei gave his final demonstration on October 5th, 1968, opening the mysteries of Aikido to all. He passed away April 26th, 1969. The 7th All-Japan was held that year for the first time in the Japan Budokan (and just 20 days before Aikido Kobayashi Dojo Kodaira Dojo opened).
Share this article
Related Posts