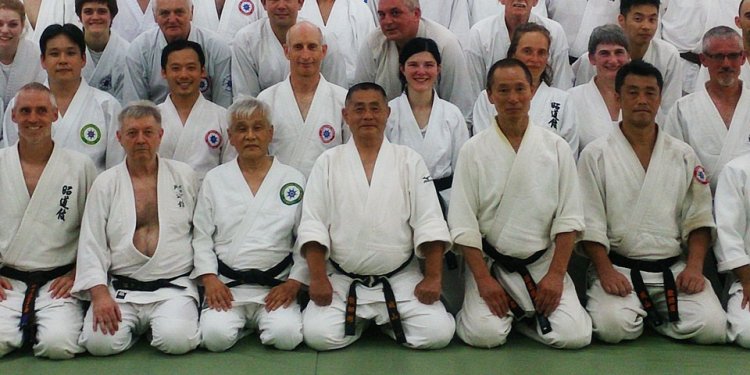 Aikido Georgia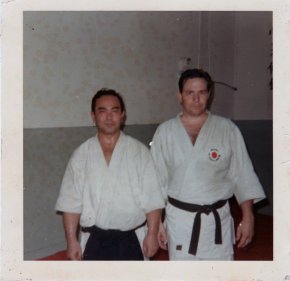 About Us
The Aikido Center of Atlanta is one of the oldest aikido dojos in the continental United States. Founded in 1967 by Sensei Rodney Grantham, we are a charter member of the United States Aikido Federation. We are very proud of our long affiliation with the USAF and its leaders, Chairman Yoshimitsu Yamada Shihan, Mitsunari Kanai Shihan and Seichi Sugano Shihan (all 8th Dan), all of whom were uchi-deshi (live in disciples) of Aikido founder, Morihei Ueshiba. Through these Shihan, we have established a long standing relationship with Aikido world headquarters (Hombu dojo) and the Ueshiba family. Our dojo was included in the late Doshu Kisshomaru Ueshiba's first tour of the U.S. in 1974 and his son, the current Doshu, Moriteru Ueshiba visited and taught at our school in 1980. We are proud of the fact that the Aikido being taught at our dojo for over forty years is a direct transmission of the art as taught by the founder's senior students.
OUR INSTRUCTORS
Aikido Center founder,
Rodney Grantham
, was first exposed to Aikido when he took ukemi for the legendary Koichi Tohei in 1967. He Began his
martial arts training
in Japan in 1950. He earned his first degree black belt in Judo there before returning to the U.S. where he rose the rank of 3rd Dan. During the early 1960's he was first exposed to Aikido and began making trips to New York to study under Yoshimitsu Yamada. In 1967 he began offering Aikido classes at his "Black Belt School of Judo". These classes were the foundation of what soon became the Aikido Center of Atlanta. After many years of practice, he became one of the first non-Japanese to be awarded the rank of 6th Dan. Grantham Sensei was a pioneer in introducing traditional Japanese martial arts to the Southeast. In 1989, after many years of teaching and shepherding the growth of Aikido throughout the region, Grantham Sensei retired to the mountains of North Carolina with his wife Janet.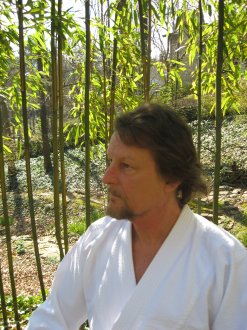 Grantham Sensei passed away in 2008, but his legacy is carried into the future by the hundreds of Aikidoka he influenced throughout his life as a Martial Arts pioneer.
George Kennedy
, 6th Dan, Shihan, has served on the Board of Directors of the USAF since its inception in 2007. He is chair of the Dispute Resolution Committee and is the main author of the USAF Student Guide. Kennedy Shihan began his training in 1972 at the Aikido Center of Atlanta and became Chief Instructor and Dojo-cho in 1989. Kennedy Shihan is a professional artist with a background in both commercial and fine art who currently works in mixed media. He is also an experienced teacher and administrator who formerly served as director of Continuing Education and chair of the Visual Communications Department of the Art Institute of Atlanta. In 1997 he earned a Masters Degree in Conflict Resolution and embarked on a second career developing and teaching Conflict Management and Violence Studies courses at Oglethorpe University. Kennedy Shihan has also developed Aikido-based defensive tactics courses for Law Enforcement and continues to be a contributing member of the Georgia Association of Defensive Tactics Instructors. These activities reflect his belief that Aikido is both an effective method of self defense and a path of peace and reconciliation.

Darrell Tangman, 6th Dan, Shihan, a retired software engineer, began his training in 1970 while a graduate student at the University of Illinois in Urbana. He was an early student of the late Akira Tohei Shihan, from whom he received his first degree black belt in 1975. While living in Minnesota he founded Twin Cities Aikido Center in St. Paul and served for a time as President of the Midwest Aikido Federation. Upon moving to Atlanta in 1985 he was invited to teach at the Aikido Center. Among his other contributions, Tangman Sensei organized our first children's class in 1990 and continues his involvement with this program today. Although Tangman Sensei now lives 140 miles away in Augusta, where he runs the Augusta Aikido Club, he still travels to our dojo on Sundays to share his insight and experience with both our children's and adult classes.

Edwin Stearns, 5th Dan, Shidoin, began his Aikido training at the Aikido Center in 1986. After achieving his first degree black belt, he was accepted by Yamada Sensei as an uchi deshi (a live-in student) at the New York Aikikai. During his two-year stay he was required to take five classes per day under Yamada Shihan and Sugano Shihan, both 8th Dan and former Uchi Deshi of Morihei Ueshiba, the founder of Aikido. Needless to say, this rigorous period of intense training forged him into a powerful yet subtle Aikidoka. He is a software engineer with a wife and two children. Stearns Sensei teaches our 6:15 AM classes on Monday, Wednesday and Friday.
Richard Nardi, 5th Dan, Shidoin, was born in Cleveland, Ohio, and moved to Atlanta in 1974. After studying another martial art for one year in Taiwan, Nardi began his Aikido training at the Aikido Center in 1984. He is a physician's assistant in anesthesia at Grady Hospital, a husband and the father of two. Known for his powerful technique and superb ukemi skills, Nardi Sensei teaches our Monday and Wednesday evening classes.
Glenn Murray, 3rd Dan, was born in Columbus, Ga, moving to Atlanta in 1980 to get his Masters of Science in Information and Computer Science from Georgia Tech. Having studied Tae Kwon Do, Judo, and some Shotokan Karate, off and on from at the age of 13, he started his Aikido training under George Kennedy in 1995 at the Aikido Center of Atlanta. HeÕs a software architect, working for AT&T Mobility, a husband, and father of three. Glenn teaches the Friday evening Aikido class and Saturday morning meditation class.
Shomu Banerjee, Ph.D, 2nd Dan, teaches our children's classes under the supervision of Tangman Sensei. He began his Aikido training in 1993 and currently holds the rank of Nidan. He is an economist and college professor who earned his Doctorate in economics from the University of Minnesota. Having lived in India, Great Britain, Turkey and Madagascar during his youth, Dr. Banerjee is fluent in many languages. His two children participate in the children's program.
Share this article
Related Posts