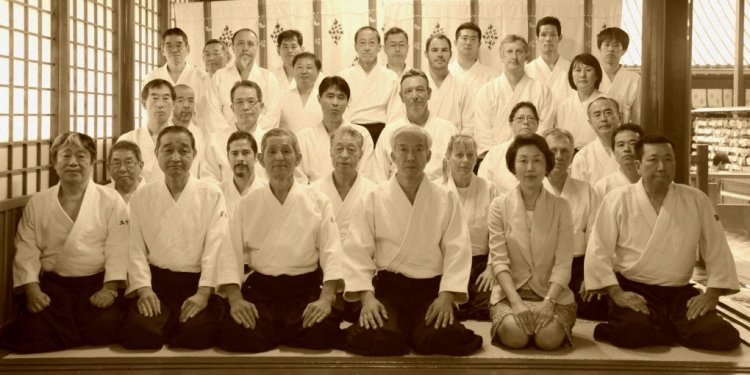 Aikido Dojo Japanese
AIKIDO dojos, schools, gyms, lessons in Japan - About Aikido:
Aikido is sometimes translated as "the Way of unifying life energy" or as "the Way of harmonious spirit." Aikido is a Japanese martial art and was created in the 1920's by Japanese martial artist Morihei Ueshiba. Aikido can be defined as a grappling art performed by using the motion of the attacker against themselves and redirecting the energy of the attack rather than opposing it. Some aikido martial artists see aikido in a metaphorical manner, seeing a connection between aikido techniques and other methods for conflict resolution in everyday life. From a philosophical standpoint, aikido can be interpreted by setting defined variables of attack and then using that opposing force against someone. Most aikido dojos use only white and black belts to identify rank, but some use various belt colors. Testing requirements and grading vary for each dojo. A certain grade in one dojo is not always comparable or interchangeable with the grade issued by a different dojo.
Shodokan Musashino Aikido Dojo:
Shodokan Musashino was founded by Sensei Ryuichi Sato in May, 2000. Conveniently located close to Kichijoji Station (JR line, Keio Inokashira line) in Musashino city, Tokyo. We specialize mainly in the guidance of "kata" and "randor." We find that each balances the other well. We have had excellent results in some tournaments.
Website:
Location: 5-11-20 Kichijoji Kita Machi, Musashino public gymnasium 4F Musashino city, Tokyo 180-0001
Aikido Tenshin Dojo:
Aikido tenshin Dojo is located in Osaka, Japan. The focus is on thinking of others while learning effective aikido techniques, without relying on strength. Led by Miyako Fujitani chief instructor of aikido tenshin dojo, this dojo is open to all who want to learn elegant and powerful aikido.
See also:
Share this article
Related Posts