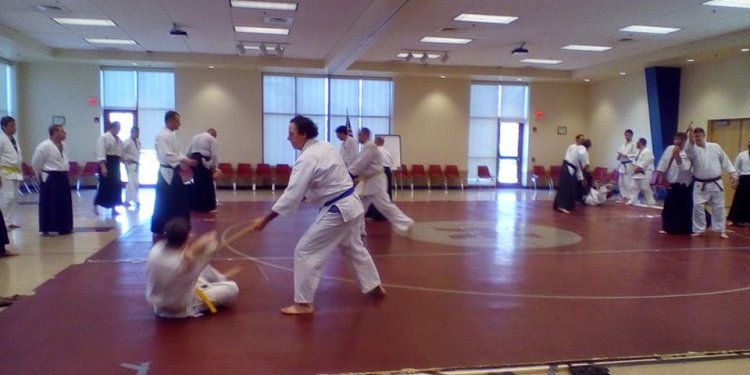 Aikido Delaware
Steve Leo
Steve Leo was born in Rochester, Pennsylvania and began his Aikido training under Okimura Shihan, in 1994, during his undergraduate study at the University of Delaware. He assisted Okimura Shihan in developing Aikido in lower Delaware, as well as, assisting at the Aikido Delaware Aikikai Dojo. Steve received his Shodan in 2000 and Nidan in 2005, and currently holds the rank of Sandan Fuku Shidoin instructors rank. He has trained at New York Aikikai, Bond Street Dojo NYC, and West Palm Beach Aikikai in Florida. To further his understanding of the technical roots of Aikido, Steve studies and trains in Daito-ryu Aikijujitsu and holds the rank of Shodan in Morita-ha Daito-ryu. Additionally, he holds the rank of Shodan in Kuniba-ha Mugai-ryu Iaihyodo sword. Steve emphasizes ukemi in his instruction and believes the message of Aikido is heavily influenced in mastering ukemi. Steve holds a Bachelor of Science degree in Physical Education.

Marcus Lynch
Marcus Lynch began his martial arts training in 1994 at a dojo that practiced Karate, Judo, and Kendo. One year later Marcus Sensei began his Aikido training in Morristown, NJ under Greg O'Connor Sensei. In 1998, as an undergraduate student at the University of Delaware, Marcus Sensei began training under Rev. Zenko N. Okimura, Shihan in Newark, Delaware. He was soon appointed by Okimura Shihan to serve as the instructor of the University of Delaware Aikido Club, where he also served as vice-president of the club for 4 years. He moved to Columbus, Ohio in 2002 to attend graduate school at the Ohio State University; at which time he practiced Aikido primarily at Aikido School of Central Ohio under Claude Geeromes Sensei. In addition to his Aikido training in Ohio, Marcus Sensei trained in classical (koryu) kendo under Sadao Kotaka Sensei (7th Dan) and his senior students. Marcus Sensei feels that sword training has helped his Aikido with respect to distance, timing, and posture. Also, the intensity of shinai kendo has helped him to develop a calmer mind. Marcus Sensei received his Shodan (1st degree black belt) from Okimura Shihan in 2004, conferred by Doshu Moriteru Ueshiba. In 2006, he graduated from the Ohio State University with a PhD in immunology. In 2007, he returned to the Aikido Delaware Aikikai to resume his training and to assist as a Fukushidoin (assistant instructor) under Okimura Shihan. Marcus Sensei is currently a Sandan (3rd degree black belt) in aikido and works as a Senior Healthcare Technology Analyst in Plymouth Meeting, PA.

***Update*** Marcus Sensei is currently in the process of establishing the Aikido West Chester Aikikai. The dojo will be housed in the Sama Center, a holistic health center in West Chester, PA. Application for WAAI affiliation has been submitted and is pending.

Michael F. Godfrey
Michael Godfrey was born in Wilmington and has lived in all 3 counties of Delaware. Before high school graduation, Michael turned 18 and joined the Marine Corps. After serving three years, he traveled the country working at various jobs before moving back to Lewes, Delaware to work on a horse farm. Following that, he returned to Wilmington to work with a window washing company that did many high-rise building windows in Philadelphia. After 14 years working for window cleaning companies, Michael opened his own business, Blue Sky Window Washing, in 2002. During the time Michael was working in Philadelphia, he read a book entitled "The Spirit of Aikido" by Kisshomaru Ueshiba and was impressed with the philosophy and message of the book. This inspired Michael with the idea of wanting to try Aikido and after 8 years he finally began to search for an Aikido dojo. The Newark dojo was the second dojo Michael visited and while there, he was told about a beginner's class session that was to start in October of 1998. Michael signed up and as he says, "That was that, I was hooked and I have been taking classes there ever since." He received his Shodan from Okimura Shihan in 2004 and currently holds the Nidan Fuku Shidoin instructors rank. His goal in Aikido training is to give 100%, whether he is stretching before the class or doing Aiki-taiso. As a Yudansha, he now takes the opportunity to refine the basic movements and look into the underlying principles at work. He also feels that it is important to have the proper attitude of respect and openness for those above as well as below in rank. Aikido practice has improved his life in many ways and Aikido continues to inspire him to improve personally as well as in his relationships with others.

Mark Villasenor
Mark Villasenor was raised in Delaware and studied both Kempo and Arnis before beginning his Aikido training in 1998. He was introduced to Aikido by his Kempo instructor. What drew Mark to Aikido, in addition to the effectiveness, beauty, and fluidity of the art was the Chief Instructor, Okimura Shihan, especially his personality and his approach to teaching Aikido. Mark actively participates and assists in the coordination of the dojo yearly seminars and other events, as well as assists during scheduled classes. He received his promotion to Shodan in 2005 and Nidan Fuku Shidoin instructors' rank in 2008 under Okimura Shihan, conferred by Doshu Moriteru Ueshiba. As a Yudansha, his goals are to continue his personal development through Aikido training and to proliferate to people the Aikido teachings of Okimura Shihan in and out of the dojo. In addition to Aikido, Mark is also an avid cyclist, runner, guitarist, and windsurfer. Mark currently works as a Nuclear Medicine Technologist in the State of Delaware.

Frank Rodriguez
Frank Rodriguez began his martial arts quest in 1967 under the traditional teachings of Grand Master S. Henry Cho in New York City. In 1969, he earned the rank of 1st degree Black Belt and in 1997 was promoted to 7th degree Black Belt in Jidokwan Taekwondo. After moving his family to Delaware in 1986, Frank was privileged to meet Okimura Shihan and was introduced to the world of Aikikai Aikido. Frank continues his Aikido training and assists Okimura Shihan in promoting Aikido in Delaware. He was promoted to Shodan in 2005 and currently holds the rank...
Share this article
Related Posts