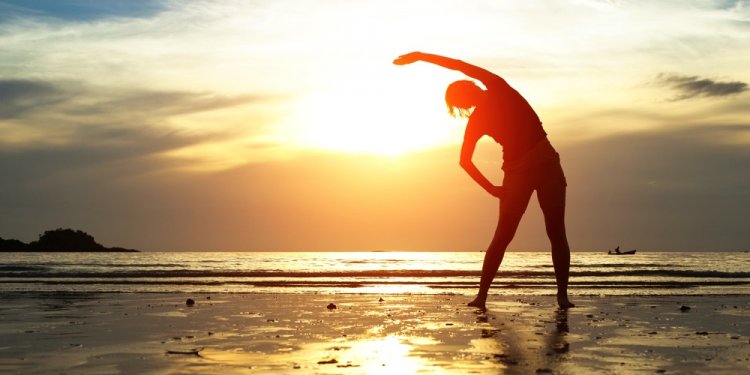 Aikido Classes London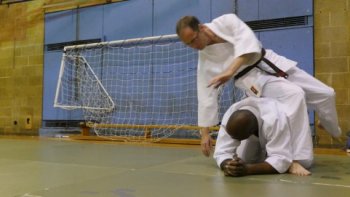 The first 20 minutes of our Aikido classes are spent warming up and relaxing using gentle stretches and yoga exercises, followed by ten minutes of practising falls to loosen up and improve technique.
 The core of the aikido class is 90 minutes of teaching and practice. An aikido technique is demonstrated by the sensei (instructor) and is then repeated in pairs or threes, with the sensei offering guidance.
What do we learn in the classes?
We rotate the themes of our classes by season, which creates a vibrant and ever-changing programme. In the autumn and winter semester, the focus is on the fundamentals of aikido technique. The summer term looks at practical self defence, training in a wide variety of situations and attacks. 
The programme covers all basic Aikido/Aikijutsu techniques, and mixes in other self-defence moves in an aikido style. It gives training in dealing with all sorts of attack and in the art of Jo (a staff). A grading syllabus gives members recognition for their progress.
Practicing how to fall safely during a class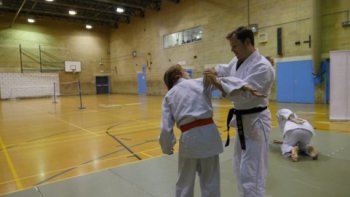 Sensei Ondrej demonstrating a technique during class
Friendly classes
The classes are small enough to allow for plenty of individual tuition and it is easy to get to know everyone by name. Everyone is welcome to come and try out Aikido or to visit from another club. There is no charge for the first session.
Please wear comfortable clothing, be prepared to train in bare feet, and bring something to drink.
What else do I need to know?
A fee of £10 per session is payable if you pay per class. 
We also have a yearly membership fee due every February which covers the cost of personal insurance and your Grading passport.
Dress code: 
Anyone who is trying out, just starting or visiting is welcome to wear comfortable sports attire such as tracksuit trousers and t-shirt. Established members wear a Gi: a Japanese white loose-fitting martial arts top and trousers, which costs from £25.
Share this article
Related Posts