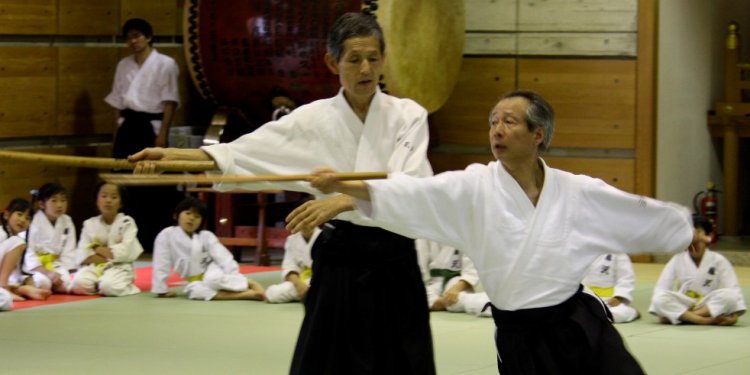 Aikido Canberra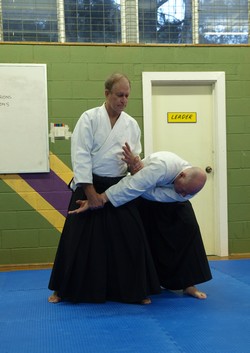 Fridays at Tuggeranong:
4 pm-5 pm, 5 – 8 and 9 – Teen years old.
Adult classes are in two locations, Deakin and O'Connor :
Wednesday
6-8 pm Aikido; at the Air Scouts Hall, La Trobe Park, cnr of Gawler Crescent & Melbourne Avenue Deakin.
8-9 pm, Shinto Muso Ryu Kenjutsu Study Group, at the Air Scouts Hall, La Trobe Park, cnr of Gawler Crescent & Melbourne Avenue Deakin.
Thursday
5.30 -7.30 pm at the 13th Canberra Scout Hall, Hovea St, O'Connor ACT
Sunday
9-11 am, at the 13th Canberra Scout Hall, Hovea St, O'Connor ACT. The first hour is Aikido Weapons
11-12 am, Shinto Muso Ryu Kenjutsu Study Group, at the 13th Canberra Scout Hall, Hovea St, O'Connor ACT.

Adult classes

Annual Adult membership of Aikido Yuishinaki Australia is $80, or $40 Concession.

$110 per month, unlimited classes (including kenjutsu).
$80 per month concession for students, part-time work, or training once a week.
$12.50 per class casual rate.

Children's classes

Annual AikiKid membership of Aikido Yuishinaki Australia is $20.

Fees for a school term are:
1 child once per week: $165
1 child twice per week: $230
2 children once per week: $285
2 children twice per week: $415
3 children once per week: $320

For the ASD class the term fees are:
1 child once per week: $140
2 children once per week: $240

Please don't hesitate to talk to us with any questions you may have or to arrange a payment plan.

Orders for uniforms (Gi) can be taken at any time; we suggest you do so once your child has indicated that they intend to stay a while. A Gi is typically around $45.

Adults

Until you know that you want to stay there is no point in buying specific Aikido clothing or weapons. Recommended clothing is a strong top/rugby shirt that will not rip when pulled. Additionally, track suit pants or similar to cover and protect the knees will be needed. Training is performed in bare feet.

Women should consider clothing that will provide them adequate modesty, e.g. a t-shirt under the top garment. Note that no jewellery can be worn whilst training.

Later, you will want to acquire a judo gi (jacket, pants, belt). Weapons such as the jo, bokken and tanto will not be required initially, although many people get them at the same time as their first gi. A Judo gi costs around $80, and a basic jo or bokken around $45 each.

Children

Children usually wear a uniform (Gi), but can start in "activity" clothes.

What to expect

When you introduce yourself you will be briefed on what to expect during the lesson. This includes the courtesies exchanged (bowing etc), and, if time permits, a senior student will show you some of the exercises prior to the class. You or your parent or guardian will also be asked to fill out your contact details, sign a copy of the Student Code of Conduct, asked to fill out an indemnity, and asked about any relevant health conditions.

It may all seem a bit strange at first – the exercises look a little unusual and it will take 4-6 weeks before your mind and body make much sense of the techniques. Just remember – everybody on the mat with you had a first night/week/month etc. They know exactly what you are experiencing and will without exception be friendly and helpful. There are no egos or attitude on the mat or off it. Everyone is a beginner.

There is no requirement whatsoever to memorise or to "get right" anything taught during a lesson. Instead, the learning method is to let knowledge sink in over time, revisiting material in the knowledge that you will learn more each time.

There are no expectations whatsoever placed upon you, except to smile a lot and enjoy yourself.

Head Dojo Instructor

Murray Loader (7th Dan)

Murray studied Matsubayashi Shorin Ryu, a form of Okinawan Karate, for seven years in New Zealand. This was fairly intensive training – six times a week, with often two classes a day. Whilst in NZ he visited a 4th Dan in Aikido who had returned from studying in Japan and who had set up a dojo in Auckland. Murray was very impressed by the technical, and particularly the mental, aspects of Aikido, and he decided that if he were to ever do another martial art it would be Aikido.

After moving to Brisbane, in 1988 he started studying Shinshin Toitsu Aikido (Ki Society) under Wayne Murray Driver, as there was no dojo of his style of Karate available. An additional impetus was that learning the spiritual side to Karate was difficult outside Japan as few instructors had been taught it, whilst Aikido seemed to live and breathe it. Wayne was a gifted instructor and provided Murray with a solid foundation in both ki understanding and technique.

Since then Murray has studied and taught at the Spring Hill and Cleveland dojos, and is now resident and teaching in Canberra.

Murray attended several seminars with Maruyama Sensei while Sensei was still in Ki Society. For Murray, Maruyama Sensei formed the very model of what students should aspire to. At this point Sensei resigned from Ki Society and entered a temple for extended study. Whilst a major blow, this also meant Australian students were exposed to a series of excellent teachers such as Reed, Kataoka, Nonaka and Tamura Senseis.

Tamura Sensei (9th Dan) in particular had a very strong influence on Murray. His blend of a strong martial component and advanced understanding and use of ki perfectly suited Murray's own inclinations. Tamura Sensei's dojos were a living example of a how to live a life with ki, and were simultaneously skilful, joyful, tolerant, committed and serious. Advice and guidance from Tamura Sensei and also from Kataoka Sensei (8th Dan) have played the major part in Murray's development.

Due to his strong connection with Tamura Sensei Murray did not immediately join Yuishinkai when it formed. However, after Tamura Sensei's untimely passing Murray was welcomed into the Yuishinkai community. A synthesis of Maruyama Sensei's own formidable understanding and the best of O Sensei and Tohei Sensei (Ki Society), Yuishinkai has proved an excellent home...
Share this article
Related Posts